Warhammer 40K: Inquisitor delayed into June
For the... em, pah, uh...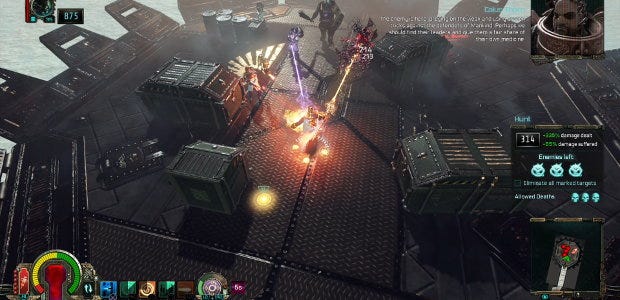 You have a little extra time to polish your crotchskull up nice and shiny, as NeocoreGames have announced that Warhammer 40,000: Inquisitor – Martyr will not make its planned May 11th launch and will instead arrive on June 5th. The 40K action-RPG from the studio behind the Incredible Adventures Of Van Helsing games is being held up on PC by problems with the console versions and the desire for a simultaneous launch on all platforms. Sounds a bummer, but the game is already playable in early access and Neocore will use those extra weeks to keep working on it.
"The reason is simple, really," NeocoreGames said in the delay announcement.
"Some technical issues were solved a bit late on one of the console platforms, therefore the release candidate version couldn't be sent to manufacturing in time. We'd like to release the game - in agreement with our console publisher Bigben Interactive and our licensor Games Workshop - on all three platforms at the same time."
That a bit of a raw deal for us on PC but Neocore say they'll use the extra time for polish, sharing their progress in a new early access build on May 21st ahead of the June 5th launch. They say this "means that the game will be in a much better shape at release." Ah sure, go on, polish away.
When our John played Inquisitor in September 2017, a few months after it first hit early access, he declared it "just the clunkiest festival of clunk since Professor David Clunkington invented his Clunkatron 3000." That doesn't mean it was bad, just... clunky. Steam's player reviews since then seem pretty positive, mind.