Goldfinger Also On Craig's List: 007 Legends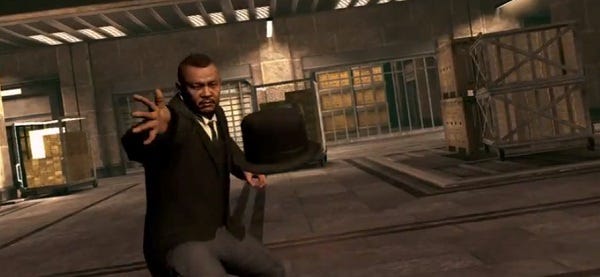 The screenshot continues the proud tradition of crap villain introductions. The headline refers to the list of Bond films and their villains that are being recreated in shake and stir 'em up 007 Legends, a list maintained by a pretend version of Daniel Craig, voice by the actual Daniel Craig who sounds like he's doing a rushed and rubbish impression of himself. Clear enough? Legends will construct a bridge of continuity between On Her Majesty's Secret Service, Goldfinger, Licence to Kill, Die Another Day and Moonraker. The last mission apparently covers some Skyfall happenings, so there'll be at least one surprise. Here's a video of the Goldfinger scenes, which are extremely unsurprising.
Surely if you're going to string together Bond films into some sort of continuity, like beefy machismo sausages hanging in a Pinewood palace, sci-fi cash-in Moonraker is the one you'd definitely leave out?