Gravity Bone's Sequel: Thirty Flights Of Loving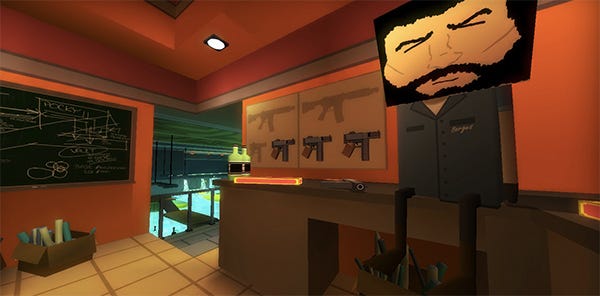 Hooray! A sequel to Blendo Games' delightfully inventive cubist spy mini-opus Gravity Bone. Thirty Flights Of Loving appears to be dripping with the same visual and sonic style as its most excellent predecessor.
Double-hooray! It's being made in conjunction with the good folk behind the newly-resurrected and much-missed Idle Thumbs podcast! Lob 'em $30 via Kickstarter to help them get their show back on the road (though at $105,000 raised to date they're in a pretty happy place already) and you get Thirty Flights before anyone else does. If you don't want to do that (admittedly, it's a high price if you're not primarily there for the podcast), the game will be released separately later.
Triple-hooray! The first-ever trailer for it is below.
Quadruple-hooray! Includes pseudo-Jeff Goldblum-based action.
And it goes a little something like this:
Gravity Bone, lest you didn't know, was an earlier game from Brendon 'Zombie Atom Smasher' Chung, and it was one of RPS' faves a few years ago.
For more on Idle Thumbs, a sort of podcast supergroup comprising assorted US games journos/devs, you'll be wanting to wander over here. Or you could watch this: