GTA San Andreas Steam Pulls Songs And Breaks Saves
No word from Rockstar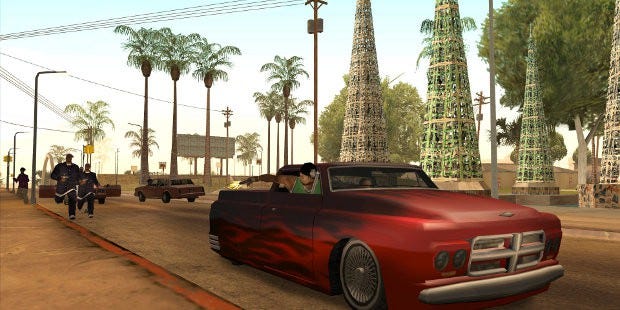 You might have noticed Steam downloading a sizeable update for Grand Theft Auto: San Andreas over the weekend and wondered what that was about. A fancy secret tying into GTA V's return to the west coast, perhaps? Not quite. The patch added support for XInput controllers like the Xbox 360 pad, which is nice, but also removed seventeen songs from various radio stations. No more angsting out and gunning it across Gant Bridge in the wrong lane listening to Killing in the Name, I'm afraid. It breaks old saves for some too, though a mod fixes that up.
Rockstar didn't release any patch notes, but RockstarNexus pieced it together. The seventeen tracks missing are the same as those removed in the recent pocket telephone version, so presumably it's a music licensing issue.
When music rights expired for some songs in GTA: Vice City, Rockstar left them in for folks who already owned it then made a separate version without them for new purchasers. It's pretty unpleasant that they didn't do the same here too. This was probably just easier for Rockstar to do. Folks who didn't buy it on Steam still have San Andreas as fine as it ever was. It's not all sunshine and roses, this auto-updating world.
Modder 'Silent' has released a beta version of his SilentPatch to fix a few other problems with the latest update, including squashed aspect ratios and the potential problems with save game compatibility.
Rockstar haven't said anything yet about what's going on.