Guild Wars 2's fourth season of new content begins soon
Previously on Guild Wars 2...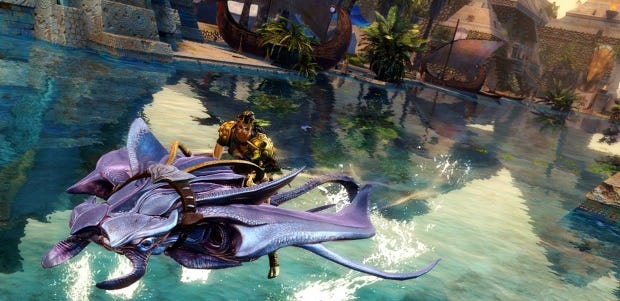 Guild Wars 2 might not be the talk of the town anymore, but the fast-paced MMO is still chugging along nicely, with a major new desert-themed expansion - Path of Fire - released just this September. It's really rather good, bringing some satisfyingly weighty-feeling mounts to the game, making exploring feel fresh and fun again.
For those who bought Path of Fire and have already hammered your way through the main story arc, get ready to dust the game off again, perhaps sooner than expected. The fourth season of 'Living World' episodic content will begin this month. Read on for a teaser trailer and some info on what this will entail.
For those who might have tapped out of Guild Wars 2 before the first expansion was released, you can be forgiven for looking upon the words 'Living World' with skepticism. The first season of Living World content was patchy at best - a series of small in-world events, punctuated with minor dungeon runs that were only available for a limited time. The culmination of it all was admittedly spectacular, with the primary trade-hub city of Lion's Arch utterly destroyed by mad scientist supervillain Scarlet, leaving players to fight through the ruins against her army of robotic minions.
Lion's Arch has since been rebuilt with a radically different aesthetic, leaving an interesting mark on the game-world for those who remember the event. There was also a new zone added, although it's now considered entirely optional, and unrelated to the story as a whole. Beyond that, only recycled fragments of the first season's story arc are available to play now via the Fractals of The Mists, a challenge mode where players undertake a chain of mini-dungeons of escalating difficulty. Hardly a grand legacy.
The second season was a marked improvement over the first, and saw the start of a new narrative focus on your own (now more actively voiced) protagonist settling into their role as leader of a group of adventurers. Season two introduced two new and better-integrated zones to the world, and a much greater focus on instanced, story-driven content in the style of the base game. So long as you logged in while each episode was the latest, it was added to your account for free, permanently, although johnny-come-lately sorts had the option to buy each episode for a couple quid.
Season three was where the present focus of the game was properly established. While the Heart of Thorns expansion seemed a little short on content at launch, it served as the foundation on which to build another year and a half's worth of Guild Wars, including a whole new zone and several hours of new story content in each of the six following episodic updates, more than making up for the relatively small initial launch. While not individually massive, those six new zones added up to a generous chunk of game.
Arenanet have promised that the fourth season will follow in the footsteps of the third, presumably adding a new handful of story quests centered around a new zone every 2-3 months from now until when the next major expansion lands. In essence, buying Path of Fire is a little bit like putting money down on a season pass, but given the sheer volume of stuff added in the wake of Heart of Thorns, I'm more than happy to pay in lieu of a traditional MMO subscription.
Season 4, Episode 1 of Guild Wars 2 will be landing on November 28th. You'll need to own the Path of Fire expansion to access it. If you're curious, the base game (a solid 70+ hours of cooperative RPG in itself, improved by years of patching and polishing) is entirely free now. Pro tip: Use the Action Camera mode. It makes it feel like a whole new game. Or Smite, if you've played that.