Hands On: Firefall Beta
No, the other kind of bugs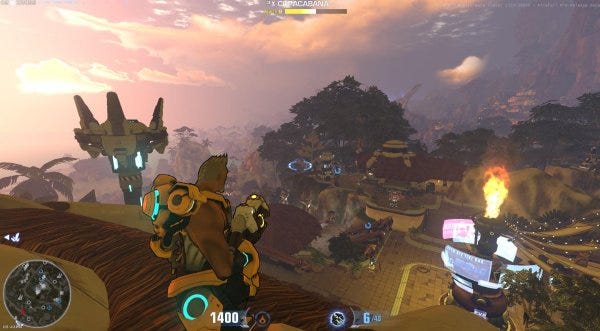 Red 5 are keen to stress that the current beta for Firefall - their free-to-play jetpackin' shooter - is not one of those betas which is essentially a demo for the game you will be soon be playing, but is instead still very much a work in progress. That means my impressions should be regarded as commentary on an unfinished thing that is subject to change. That said, I've got a feeling this game could end up being quite significant, and – despite its clearly unfinished and underpopulated beta state - I've found it to be rather interesting. Read on for vital thoughts.

At this point in the proceedings, the most immediate and striking thing about Firefall is the world that Red 5 have built. While it remains to be properly furnished with a variety of PvE content, what is already in place suggests enormous potential, as well as demonstrating astonishing beauty and virtuoso visual design. The world which you and a small army of jet-packing chums will be exploring is huge and enormously detailed. Currently there are two hub areas, a sort of Apple-designed military base, and a tropical beach resort. Outside of these bubbles of comparative safety (which are nonetheless riddled with dangerous aliens and enemies) there is a devastated world that sprawls off in every direction, quests and events littering the landscape for you to find.
Right now the game drafts you in through a few tutorial missions – the sort of quests that you'd be familiar with from any MMO. Except it rapidly becomes apparently that this isn't like any other MMO, because you are immediately throw into fast-paced combat with enemies analogous to the bugs in Starship Troopers. They're erupting from the ground, your weapons are blazing, and you're jet-packing up into the air to avoid snapping claws. There are whiffs of Tribes, and of Borderlands, but also numerous other multiplayer games. This is clearly a melting pot of both design and art ideas.

Nor is it just the pace of the game, or the fact that it is a third-person shooter with iron-sights, that sets it apart from the homogenous bulk of F2P worlds. The heart of Firefall is actually not the shooting so much as, well, the crafting. You're constantly gathering resources, whatever else you're actually doing in the world. In fact one of the main activities for you is surveying for places to call in a "thumper". This is beautifully conceived, and by far the best basic resource gathering process in an MMO.
To start with you belt the ground with a giant hammer, which sends a rippling shockwave across the ground. This allows you to discover resource deposits, which can then be gathered by calling down the thumper itself (presumably from orbit). This thing smashes into the ground at the point you've selected, and begins thumping away as it extracts the resources for you. The seismic activity then causes the insectile enemies aliens to emerge and attack. You – and by this point probably your squad of friends – need to fight off the attackers until the machine is done, and it blasts off into the sky. This process will become routine, of course, but it's peculiarly dramatic, and a great idea for the most fundamental grind mechanic in this kind of game.

While these resource events are PvE activities that are kicked off by the players, there are also other things to deal with as you roam about the map, so called "World Events". These seem pretty limited at the moment, the most common of them being a crashed thumper which you can loot for parts, and also encounters with patrols by "The Chosen". These encounters are altogether much weirder than anything else in the game, not least thanks to the chosen "speaking" to you as you fight. These conspicuously evil humanoid baddies taunt and bait you as if whispering in your ear. The first time it happened it was pretty disconcerting, and I assumed the game had gone haywire. But not so. In fact it's not at all currently clear what is going on there.
The Chosen will, presumably, tie into the game's wider story, but right now they're the most significant NPC combatant available to us in the beta: you get clusters of them appearing across the map, either in small patrols or much larger incursions with big energy-fortress things from which they spawn. These require a group to take down and, in all instances, will earn you big rewards from the dudes who are backing your faction.
Rewards that, again, include resources. As I mentioned previously, it's the crafting that Firefall's process keep coming back to. While a small amount of loot gets dropped by Chosen as you play, most of the stuff you actually want and need has to be crafted at the base terminals. As you level up – and you can level up across all the different classes – you will be able to build both different weapons, different special abilities and different "battleframes" (the armour type). This means getting the plans for the thing you want to build, and the right resource, and then crafting it. At the low level stuff I'm making this takes just a few seconds, but I can see that more impressive builds are going to require me to spend a lot more time in manufacturing and resource gathering. This is going to be the heart of the game, and will probably end up requiring some dedication.

All this work, of course, feeds back into your loadout – which consists in a primary weapon, a backup infinite-ammo rifle, and some special abilities. I've yet to see a fraction of these – and there's clearly plenty that are not yet available in the beta – but it looks like there's going to be a spread across things you can bolt into your class-specifc battleframe, things you can deploy (the engineer has a turret by default) and general consumables that get a single use. I'd expect to see all of these, in different ways, in the game's shop. It's "free" to play, of course, so it's going to make its money on some aspect of the kit that players end up using.
What's not actually clear at this stage is precisely what the game's shop is going to give us, and I hope Red 5 choose wisely. Presumably it's going to be the designs for things that you want to build. At least in the PvE part of the game any "pay to win" aspect is going to be less sensitive, but I guess we'll see.

So that's Firefall. Familiar in some ways, but still an enigma in others. The key to understanding Firefall seems like it could be in understanding who is making it. The company CEO is Mark Kern, who was formerly Blizzard's team leader for World Of Warcraft. And yet that's not a good signpost for what is going on here. Firefall is not World Of Warcraft with jetpacks and guns, and in fact it feels very much like it's own game, speeding away from over-used MMO tropes. Even the Tribes and Borderlands references don't really seem to stand up to too much scrutiny. If anything, it feels like that other attempt to do a sci-fi shooter MMO, Tabula Rasa. Only it feels like Firefall will hook far more players. It's just got a certain solidity to it.

That said, I am not sure what the long term appeal of the PvE will be. There's certainly a real sense of potential for dynamism in the world, both in the sense that you can roam about the landscape, getting into scrapes with random events, helping out other players in the wild as they battle to defend their thumpers and so on. But also in the wider sense that the players will be battling against enemies, pushing them back, fighting off incursions and so on. I suspect this will only really be sustainable for players to play long-term if it is supplemented by constant and regularly content additions to the world, which is a tough ask for any studio.
(Earlier gameplay footage not from the beta.)

There's PvP, of course, but that's sort of closed off from the main world. I am not entirely sure that works, either. I wonder if a PvP world where players were struggling to fight each other for resource, but banding together to fight the NPCs, would actually have been more interesting. We shall see.
And whatever Firefall ends up doing, I suspect it's going to be significant. This is probably the most important experiment going on in F2P games right now, and I genuinely hope it works.