Have You Played... Bloody Good Time?
Bloomin' ok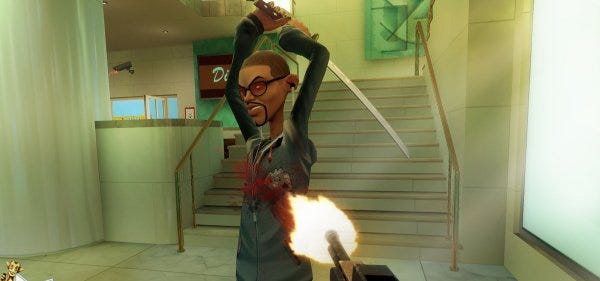 Have You Played? is an endless stream of game retrospectives. One a day, every day, perhaps for all time.
Bloody Good Time is certainly bloody, and I can't argue against it being "a time", but is it good? Weeeeell...
I'm gonna say yes, but with reservations. Unusually for a multiplayer FPS, those reservations are mainly about the inclusion of guns. You see, Bloody Good Time is a shooter that's best when it revolves around planning and deception rather than twitch skill.
Like the real-world game of Assassin, or the multiplayer mode in old Assassin's Creed games, you're given a single player to hunt while another player hunts you in turn. It's a great idea, but the cartoony graphics and prevalence of easy to use weapons means that - at least for me - it can't match the tension of Outerlight's first stab at the formula, The Ship. Death is too often delivered by the brute force of a machine gun rather than the elegance of a well executed trap.
I mean that literally: traps are the game's best feature. They turn otherwise boring environments into potential deathzones, and give you the opportunity to suss out your hunter based on who seems to be hovering near the activation button.
I'd love to see a new "murder party" game that took the best elements from this and The Ship - who knows, maybe The Ship Remastered wouldn't have flopped last year if it had actually tried something new.