Have You Played... Crazy Taxi?
I've been in a few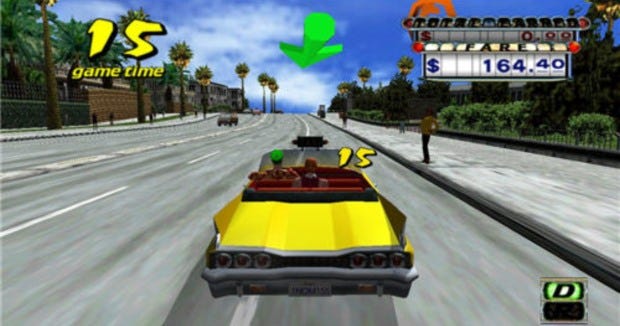 Have You Played? is an endless stream of game retrospectives. One a day, every day of the year, perhaps for all time.
I love its style even if I find playing Crazy Taxi a chore.
Is there any lazier a mechanic than a time limit? I don't mind my pace being measured, but when a game puts a ticking clock on my fun, the tension it adds feels frustratingly artificial. When the clock runs out and my game is over, it's a huge, off-putting punishment.
That's a shame in Crazy Taxi, a game of typical '90s vibrancy: great colours, great music, great speed and car-handling, but a timer that not only measures your performance as you deliver passengers around the city but shows you a game over if you're too slow.
I battled through that to play plenty of Crazy Taxi anyway, because it's still great, but I wish a new game would ditch the old-fashioned arcade trappings and, like other racing games before it, take away the guillotine descending above your head.