Hellblade: Senua's Sacrifice is profitable after 3 months
Surprising Ninja Theory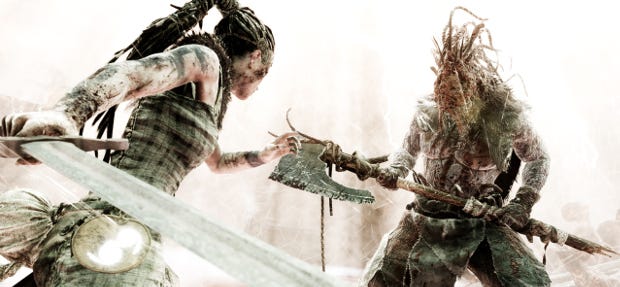 Hellblade: Senua's Sacrifice has, after three months, become profitable for developer Ninja Theory. Since launching in August, the third-person action game has sold 500,000 copies and garnered a great deal of praise for the way it approaches the challenging subject of mental illness. This is great news for Ninja Theory, of course, but its success will also no doubt be welcomed by those hoping that Hellblade will herald the arrival of AAA-quality games designed by indie studios. I don't think it will.
In a final dev diary, Ninja Theory staff explain how they were able to make a game like this with a small studio, no publisher and no crowdfunding. As part of that, Tameem Antoniades, 'chief creative ninja', says that one of their goals was to "prove that there was a space between indie and AAA games that could work commercially." Dominic Matthews, 'product development ninja', also urges other developers in a similar position to get in touch if they want to know more about how they can do the same.
Now don't get me wrong: I can see that another studio might be able to repeat this success, I just think it's going to be extremely rare.
First off, the sexy stats. Hellblade has now hit 500,000 sales, and when the dev diary was recorded it had generated $13 million in revenue. It took three years to make and the studio size was around 20 people. Ninja Theory expected to wait nine months before it broke even, but it took three.
Even though it kept costs down by keeping the team small, three years of development isn't cheap. Ninja Theory's budget was enhanced by a co-production grant from the Wellcome Trust, whose remit includes expanding public understanding of science and health, plus loans and UK tax relief. That accounted for just under half of the budget. The rest came from Ninja Theory itself, saved up from years of work-for-hire projects. So even with all the assistance the studio got, it still had to fall back on years of experience and the money it earned from that.
So yes, if you've worked on games like DmC: Devil May Cry and Disney Infinity, and you're able to get grants and loans, then maybe, just maybe, you can replicate Hellblade's success. It would also help if there was a dash of controversy to drum up some more press attention. But even then, there are so many ways it could go wrong. One of the most notable advantages AAA studios have is a publisher's stupidly huge marketing budget. Ninja Theory initially had to rely on fans and word of mouth, and it was only after getting 75,000 pre-orders that a proper digital marketing campaign could be started.
I don't want to be a Debbie Downer, because I'd absolutely love to see more indie studios able to blur the lines between indie and AAA. But I can't help but feel like Hellblade is the exception, not the rule.