Smashing Skellingtons: 20 Minutes Of Hellraid
Spooky ooky skellingtons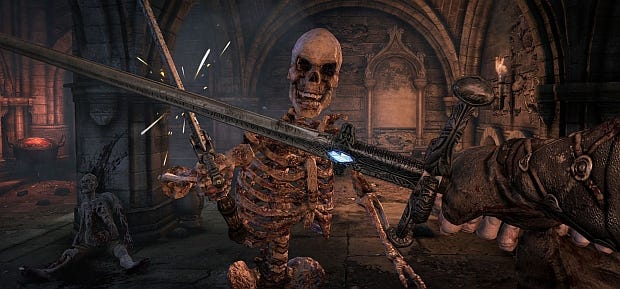 Fans of Lighthouse Customer will know there are currently a lot of fantasy combat games currently fighting for your attention in Steam Early Access. Son of Nor has telekinesis; Lichdom: Battlemage has thousands of numbers and stats; In Verbis Virtus has voice-activated spell commands. Hellraid, by Dead Island developers Techland, is going another route: what if we just made some swords and axes and then, you know, made them look really good?
Well, that sounds nice. There's twenty minutes of new, developer-commentated video below.
First-person melee combat in games is still a darn-hard problem, and for every stabby-satisfying Dark Messiah of Might & Magic there's a woolly-wavy Skyrim. From the video, I'm concerned that Hellraid's impacts lack impact, as sharp objects bounce off enemies with large numbers of hit points. I do like the pace of the combat though: a proper need to block, to predict enemy attack patterns, and to time your attacks carefully dependent on the type of weapon you're wielding and the speed of its swing.
Also ice attacks. I want to make enemies slip on their butts and go tumbling down mountains, as that's the other Dark Messiah of Might & Magic thing that no game has properly provided since.
Hellraid is due to enter into Early Access later this autumn before its final release sometime next year, so there's still time for swords to be sharpened and polearms to be made pointier. Other things I am looking forward to: that it has an arena mode, as well as its missions, and that it can be played in co-op with up to four players. You can learn more about its Heretic-ways in our interview with Marcin Kruczkiewicz from back in April.