Help Santa deliver Christmas gifts in Truck Simulator
Ho ho haul!
How can Father Christmas deliver presents to all the children of the world in only one night? Magic. However, Sinterklaas has been caning the peppermint schnapps and wouldn't say no to a bit of help from truckers. American Truck Simulator and Euro Truck Simulator 2 have launched festive events challenging virtuatruckers to haul gifts across Europe and Americky. That's a great act of kindness, and Father Christmas of course loves that stuff, so in return the games offer honking helpers gifts such as truck paint jobs and cabin decorations including a real uncle-lookin' snowman.
As in previous years, the Grand Gift Delivery event involves hauling spangly oversized gifts. They're World of Trucks contracts, so look there rather than in the usual place. In return, Father Christmas (who you know surely has a KEEP ON TRUCKIN' sticker on the back of his sleigh) will reward you with gifts.
As developers SCS Software explain in the announcement, rewards work a little differently this year. For starters, the American Truck and Euro Truck 2 events are separate this year. Progress is tracked separately, and rewards are given separately.
Rewards come in two tiers this year. Completing six event jobs will get you two hanging cabin decorations (a friendly bear plus a bauble or a star) and a new main menu background theme. Complete twelve to also receive more hanging doodads (a scary bear and a snowman trucker, in different colour variants in each), a customisable crystalline paint job, and another menu theme. And there are cheevos, obvs.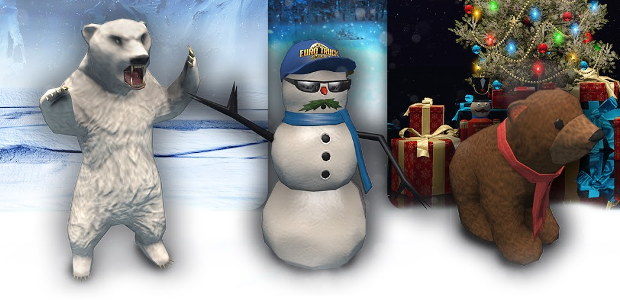 Let's talk about this trucker snowman and his moustache of holly leaves. It's not on, is it?
I tried to help Father Christmas by hauling some gifts but apparently I lost my American Truck Simulator save at some point and need to start over. That's fine; I mostly used it to pootle along Route 101 and had a long string of fines to my name.
That festive screenshot at the top is from METISS83.