Highlander Galakrond Shaman deck list guide - Scholomance Academy - Hearthstone (August 2020)
Scholomance has brought a whole bunch of tools for all the classes - here's a take on Shaman.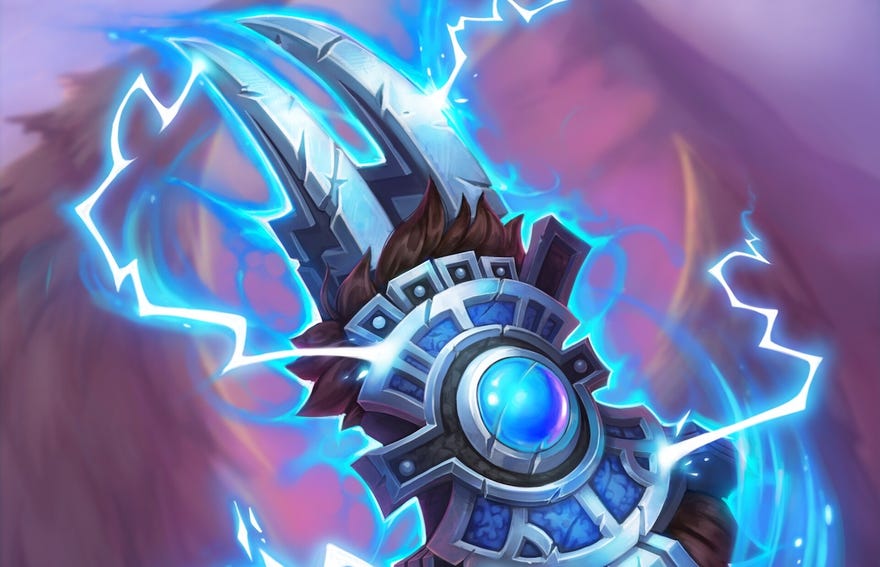 Galakrond and his contemporaries had to be nerfed to hell for the Shaman class back at the beginning of Descent of Dragons. Thankfully, it's in a much better place now, but with Scholomance Academy the class is getting a whole host of new toys.
The Highlander nature of the deck means you get to take advantage of Dragonqueen Alexstrasza and Zephrys the Great. Check out our Zephrys guide if you need a hand on using that doozy of a card.
Combining both Galakrond and Highlander with the great kit from Scholomance Academy, this deck looks to keep up with the enemy tempo-wise before destroying them with big late-game plays.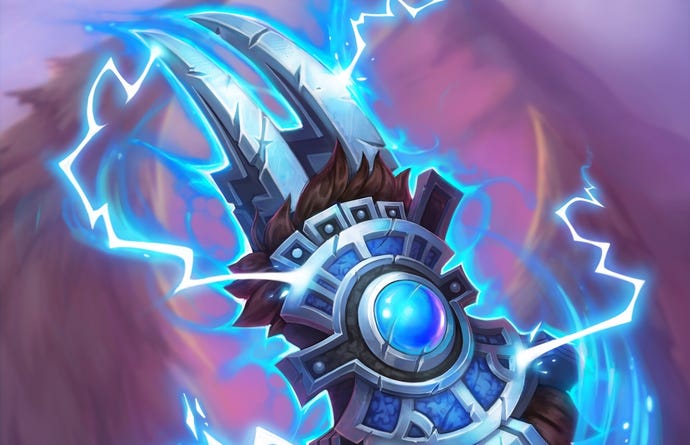 Highlander Galakrond Shaman deck list and strategy
Here's the Highlander Galakrond Shaman deck list we think is going to be in the Scholomance Academy meta. Keep an eye on this page for any changes though!
| Shaman | Neutral |
| --- | --- |
| 1 x Lightning Bloom | 1 x Zephrys the Great |
| 1 x Devolving Missiles | 1 x Devoted Maniac |
| 1 x Earth Shock | 1 x Lorekeeper Pokelt |
| 1 x Diligent Notetaker | 1 x Shield of Galakrond |
| 1 x Invocation of Frost | 1 x Kronx Dragonhoof |
| 1 x Witch's Brew | 1 x Dragonqueen Alexstrasza |
| 1 x Far Sight | |
| 1 x Instructor Fireheart | |
| 1 x Lady Vashj | |
| 1 x Lightning Breath | |
| 1 x Marshspawn | |
| 1 x Serpentshrine Portal | |
| 1 x Groundskeeper | |
| 1 x The Fist of Ra-den | |
| 1 x Bandersmosh | |
| 1 x Dragon's Pack | |
| 1 x Hagatha's Scheme | |
| 1 x Ras Frostwhisper | |
| 1 x The Lurker Below | |
| 1 x Earthquake | |
| 1 x Galakrond, the Tempest | |
| 1 x Swampqueen Hagatha | |
| 1 x Walking Fountain | |
| 1 x Eye of the Storm | |
Select and copy the long ID string below, then create a deck in Hearthstone to export this deck into your game.
Deck Import ID: -
General strategy
You have a lot of tools to get the win with this deck. Galakrond, the Tempest has the potential to solo your enemies with his 8/8s with Rush along with Kronx Dragonhoof's Devastations.
You also have your excellent Highlander synergies, with Dragonqueen Alexstrasza, even post-nerf, being a massively powerful turn 10 play, and Zephrys the Great offering you the chance to snatch lethal from the jaws of... an enemy lethal?
Early Game: You don't have a huge number of minions to play early game. What you do have though, is annoying spells that'll disrupt your enemy's play. Earth Shock silences your foes, whilst Devolving Missiles can severely weaken strong early enemy boards. You can even reuse these if you can get a Diligent Notetaker to stick on board.
Of course, being a Highlander deck you can't guarantee a perfect early draw situation, but as long as you mulligan well and aim for cheap removal, you'll be alright.
Mid Game: You can start to get a grip on the game midway through. Start Invoking Galakrond, the Tempest if you can - Devoted Maniac will summon you an extra 2/1 with Rush giving you 4 direct minion damage immediately, whilst Lady Vashj can scare your opponent into removing it lest the Spell Damage begin to take effect. Even then, Vashj Prime becomes a potential threat.
Of course, it's hard to be completely consistent with a game plan given the singleton nature of this deck, but keep playing as on tempo as you possibly can and you'll be alright. You should have enough removal to get to the stage where you're on board, and if you find a spare turn, playing The Fist of Ra-den could be a snowball effect with all the spells you'll be casting.
Late Game: Towards the end of the game you'll ideally be taking control. With Galakrond, the Tempest available as a potential finisher and Zephrys the Great often playable late-game to bring things back into your favour, you'll hopefully be able to finish the enemy off nice and easily. Remember, Zephrys will always find lethal if it's available, so keep counting through your mana reserves and ability to finish them off with cards from the Basic and Classic sets.
You have a great deal of late-game plays too. Low on life? Walking Fountain can heal you for 8 and kill two enemies in the process. Big board of tokens? Just Earthquake them. Need a bit of extra time? Well don't you just know it, Eye of the Storm will whack a huge wall in your enemy's way. And of course, who can forget Kronx Dragonhoof, the absolute machine, who can either finish your enemy off, buff your board, or put a big ol' dragon in their path. It's pretty easy to find things to do late on to close the game out.
Highlander Galakrond Shaman Mulligan Guide
You want to survive the early game so you can get to your powerful later plays. Here's what to aim for.
1. Invocation of Frost lets you summon a 2/1 with Rush and stall the enemy out with a Freeze, also Invoking Galakrond in the process.
2. Earth Shock is a great choice for taking out an early threat, especially if it has a Deathrattle.
3. Diligent Notetaker is a well-statted 2 mana 2/3, and it also allows you to get extra value from your early removal spells. Activating the Spellburst effect gives you that spell back to use again.
Highlander Galakrond Shaman tips, combos and synergies
Highlander Galakrond Shaman is a fun one - here's how to make it work best:
- Groundskeeper only activates when you're holding a spell costing 5 or more mana, like Earthquake or Hagatha's Scheme. The border of the card will be highlighted yellow if the effect is going to go off.
- Zephrys the Great is a great way to find lethal, but you might not ever get to that stage in the game. He's just as powerful when used proactively early on, so don't worry about whacking him out on turn 2 to get an Animal Companion after.
- The Lurker Below is amazing against boards of small token minions, but remember the effect can be repeated in either direction, so plan out which minions you want to kill off before using the Battlecry.
- Bandersmosh will not stay the same for two turns in a row, so if a brilliant Legendary comes up as an option, like Kalecgos or Dragonqueen Alexstrasza, consider whacking it onto the board ASAP.
- Dragonqueen Alexstrasza has been hit with a nerf, making her generated Dragons cost 1 instead of 0. However, this remains pretty solid as a late game play, as the Dragons generated are still super cheap and can be a great source of late-game stats to finish the game off.
- Lorekeeper Pokelt is a card you don't want to play early, otherwise your draws will be dead for a while. However, late in the game you can guarantee your big cards come out at the top of your deck, so it's well worth playing once you're at 10 mana.
- Ras Frostwhisper deals damage at the end of your turn to all enemies, not just enemy minions. This means it hits face, and you'll be able to find a cheeky lethal if the situation is just right.