The Bald And Delayed: Hitman Pushed Back To March
The first slice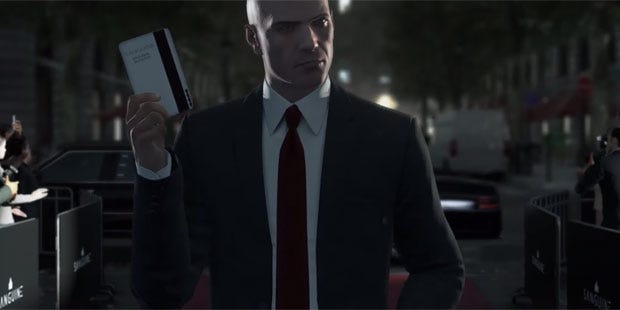 Curses. Hitman [official site] was supposed to be the icing on the cake of 2015. Its not-strictly-episodic release format meant there'd only be a single slice of iced sponge available on launch day but having seeing the game up close, I reckon that might be enough to satisfy my sandbox murder-needs. IO Interactive have just announced that the initial release date has been pushed back to March 2016. Full details below.
It sounds like the delay might relate to a steady and solid post-launch release schedule as much as the initial chunk of game:
"We want to make absolutely sure you all get the best possible experience when you join, so we've made the difficult decision to move the initial release date to March 2016. These few extra months will mean we can add more to the launch content of the game, more than we had originally planned, and then follow with a tighter frequency of updates, which ultimately will create a better game for everyone. And in the end, that's what we're all looking for."
IO go on to describe the sheer size and density of the locations in the game, using the rather spiffy image below.
"To give you a sense of the scale when it comes to our various locations, we've compared our Paris Showstopper mission to the largest level in Hitman: Absolution. As you can see, lots of challenges, plenty of space to set up death traps, and a huge supply of targets for Contracts mode.

"Moving a launch date is never an easy decision, we know it's frustrating to have to wait a bit longer for the game, but we truly believe it will mean we can deliver a better launch and overall experience. We'll share more details next week about the full release schedule and scope of HITMAN in general so keep a look out for that."
Hopefully that last part means we'll soon learn more about which locations are coming and when.