Housebound Horror Allison Road Back From The Grave
The curse of P.T.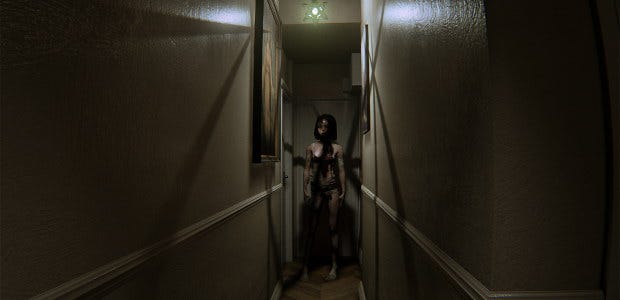 It's the curse that keeps on giving. Allison Road [official site], the cancelled first-person horror about wandering around inside your family home stalked by a creepy girl with a bad case of the Blood Drools, has been revived. Its original developer, Christian Kesler, told IGN that he is continuing to work on it alone. Which is a scary prospect by itself, considering the game's spoooooky history.
You see, last year had fans of horror on an eerie rollercoaster of emotion. Let me set the scene for you.
It was a dark August night when a strange game appeared on the PlayStation Store. It was called P.T. - an acronym which stood for "playable teaser". Those who played the game never spoke about it. Except to say that it was good, and also a demo for an upcoming Silent Hill game being made by Hideo Kojima and Guillermo del Toro. But within a year this game, Silent Hills, was mysteriously killed cancelled. The "P.T." vanished from the PlayStation Store on April 25 2015, and it became shrouded in myth and rumour. The internet reeled, whispers could be heard in forums everywhere, whispers of a curse.
Shortly afterwards, footage of a new game appeared on dark pages of the internet. It had nothing to do with Hideo or Mr del Toro. But it flouted itself as a "spiritual successor" to P.T. It was called Allison Road, made by a six-person team called Lilith, and it too would be a first-person horror game set in the family home. It began a Kickstarter, then threw that idea out when Team 17 pledged their publishing support. But the curse was never far away… in June this year, Allison Road was also mysteriously murdered in its sleep cancelled.
But now it looks like the curse is lifted. The lead developer told IGN that he began to rework some aspects and "pacing" of the game by himself, and "before I knew it, it sort of naturally came back to life." He reminds people that it all started as a solo project and said: "I can comfortably take the game forward by myself."
There's no release date yet and no news on what changes exactly are going to be made to the story or the game. But it looks like we're back on, folks. In the mean time, let's all pray that Resident Evil VII, another game following in P.T.'s cursed footsteps, remains safe and sound.