HP Omen X 17 review: A stylish gaming laptop with beefy innards
A good omen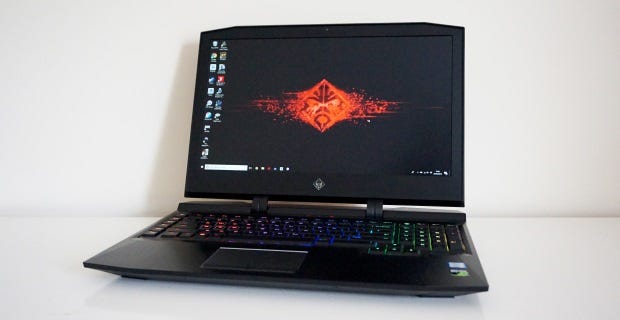 HP have been making a bit of a comeback of late. Everywhere you look it's Omen this and Omen X sponsored that, so I thought it was high time I saw what all the fuss was about. What I've got here is the Omen X 17, or the catchily named HP Omen X 17-ap003na to give it its full and proper title, which is the toppest of HP's top-end gaming laptops.
There are many other Omen X 17 configurations available, including models with different processor and graphics card combinations, but inside the 17-ap003na you'll find an Nvidia GeForce GTX 1080 graphics card, a quad-core Intel Core i7-7820HK processor, 16GB of RAM, a huge 17.3in, 1920x1080 IPS display with a 120Hz refresh rate and Nvidia G-Sync support, plus a 256GB NVMe SSD and 1TB HDD, making it one of the most potent portable(ish) gaming machines I've seen since the MSI GT75VR Titan Pro.
Now the MSI GT75VR was crazy expensive, hitting north of three grand on either side of the Atlantic. The Omen X 17 is also crazy expensive, but comparatively it's a much saner buy than its MSI rival, coming in at just under £2700 / $2645 (or even a mere £2300 if you buy it through HP's website with the code CLEAR400 in the UK). That's not bad when you consider both laptops have nigh-on identical specs and you get added G-Sync support with the Omen X.
Admittedly, having any kind of adaptive frame rate technology onboard is probably a slightly moot point when you've got a whopping 4K-capable GTX 1080 at your disposal and only a 1920x1080 resolution in which to flex its muscles, as you can easily play most games at 60fps on max settings with this kind of pairing, if not the full 120fps allowed by the Omen X 17's 120Hz refresh rate.
Still, for the few games that lock you in at 60fps like The Witcher III, or even those whose frame rates fall somewhere between 60 and 120fps, it never hurts to have a bit of extra help keeping the frame rate nice and smooth as well as tear- and stutter-free. After all, not even a GTX 1080 is enough to play Final Fantasy XV at 120fps at 1080p without a couple of compromises in the graphics department, so those after the ultimate boyband roadtrip experience may well actually find it quite useful.
Indeed, I was only able to get a maximum frame rate of around 95-100fps on Highest with all of FFXV's special Nvidia bits turned off, and even then I saw dips to around 80fps when carving up the local wildlife for a spot of dinner. Switch on all the HairWorks, Turf Effects, VXAO and ShadowLib gubbins and you're only looking at around 70-75fps when you're exploring the world at large and around 65-70fps in combat. That's still nothing to sniff at, of course, but dropping down to High only yielded around 5-10 extra frames across the board, so those after the full 120fps will have to settle for lower graphics settings.
The same goes for Hitman and Total War: Warhammer II. The former managed a smooth 77fps average in its internal benchmark on Ultra settings while the latter settled closer to 70fps in Ultra-fied battles and 80fps on the campaign map. At no point did either fall below 60fps, which is good news, but you will have to make do with High, or perhaps even Medium, if 120fps if your ideal target.
Rise of the Tomb Raider's meaty anti-aliasing settings also proved to be quite a challenge for the Omen X 17, but at least here you don't necessarily have to compromise on its overall graphics quality to hit that delicious 120fps sweetspot. With SSAAx4 engaged, you can still expect an average of around 68fps on Very High, but knock it down to FXAA and you'll get the full 120fps without having to switch graphics settings.
Doom, likewise, breezed through at 120fps on Ultra when I stormed through its opening battle sequence, and Wolfenstein II: The New Colossus also broke the 120fps barrier on multiple occasions, sometimes reaching as high as 180fps.
You'll never see more than 120fps due to the screen's refresh limitations, of course, but it bodes well if you ever want to use its rear-facing HDMI, miniDisplayPort or pair of Thunderbolt 3 outputs to connect it to an external monitor with an even higher refresh rate. Those Thunderbolt 3 ports are also a welcome sight for potentially attached an external GPU further down the line, and while we're on the subject of ports, you also get three USB 3.1 ports, an SD card reader, separate headphone and microphone jacks and Gigabit Ethernet.
Returning to my benchmark results, I was also impressed with how the Omen X 17 handled Assassin's Creed Origins. By far one of the most labour-intensive games of recent months aside from Final Fantasy XV, the 17-ap003na handled its demanding Ultra High setting with aplomb, its internal benchmark hitting a pleasing average of 74fps. That's 'Very High', according to Ubisoft's own weird metric that's never gone higher than 'Stable' whenever I've tested anything else, and while there were still a few stutters here and there as the benchmark's camera swept round some sharp corners, the frame rate never fell below 60fps and it looked pretty damn stunning all the way through.
Middle-earth: Shadow of War also felt very much at ease on Ultra graphics settings, with its internal benchmark reaching an average of 90fps and highs of 131fps. The Witcher III, meanwhile, will only ever yield 60fps on Ultra unless you start tampering with its ini files, but even that still makes for a very enjoyable bit of fantastic beast hunting.
The Omen X 17 certainly has the graphics heft to make good on its 120Hz refresh rate most of the time, then (even if its fans sound like they're about to launch into outer space every time you play a game), and its quad-core 2.9GHz Intel Core-i7-7820HK will no doubt make a fine long-term companion on the CPU side of things, too.
Admittedly, it's a little disappointing that HP are still using last year's 7th Gen Kaby Lake processors in the Omen X 17 rather than the newer 8th Gen Coffee Lake models, but on the whole I had few complaints about its everyday speed and responsiveness. In Geekbench 4, for instance, it managed a score of 4840 in the single core test and 15573 in the multicore test. This is pretty much what I'd expect from this particular chipset, and shows there's nothing untoward going on beneath the chassis that's throttling performance.
However, while the lack of Coffee Lake is certainly a bummer, HP's Omen Command Center software does at least give you some tools to help overclock the CPU to give it an extra boost. As well as being able to change the processor core ratio (the speed at which each core will operate), the core voltage (how much voltage is being supplied to the CPU) and the processor cache ratio (which controls the maximum operating frequency of the interface that connects each cache to its core), you can also test the results of your tinkerings with its built-in Intel XTU (Extreme Tuning Utility) benchmark.
The UI could be a tad clearer and user-friendly to overclocking beginners - the processor core ratio menu, for instance, starts at x35 but the prompt says to start at x1, which isn't even an option - but on the whole it's sensibly laid out and not too difficult to get your head round. Overclock it too far, though, and you'll find everything is annoyingly returned to its default settings, even if previous overclock attempts have been successful. I managed to get up to a x45 processor core ratio, for example, but it froze when I pushed it to x50. When I reset the laptop and went back in, it was back at x35, which isn't exactly helpful.
The Omen Command Centre isn't just for overclocking your CPU, however. You can also use it to monitor temperatures for your CPU and GPU, as well as see how much of them are being utilised in real time, and there are separate control tabs for customising the keyboard's RGB lighting and assigning macros to the six programmable P keys down the left hand side.
The keyboard itself is a fairly decent affair. I could probably do without the try-hard space-age fonts, to be honest, and the programmable macro keys down the side constantly played havoc with my brain when trying to press Ctrl, but on the whole I felt each key was well-spaced despite being so close together and each press was nice and tactile. Not quite a mechanical keyboard level of clicky-clacky-ness, mind, but clean and precise nonetheless.
The rest of HP's Omen malarkey stylings actually all right, too. The jumbo circular screen hinges are maybe a bit over the top, but the red and black butterfly-like logo are reasonably tasteful as far as gaming laptops go and I don't think I'd feel embarrassed by it in the unlikely event that I'd ever have to use it in public. I just wish the lower edge of the keyboard tray wasn't quite so hard and sharp, as it made typing on the Omen X 17 quite uncomfortable on the old forearms after a while as it constantly felt like it was scraping against my wrists.

The screen itself looked pretty decent as well. I was initially a bit disappointed by its sRGB coverage score of just 85.8%, which is pretty sub-par considering it has an IPS panel, but generally colours still looked pretty punchy, and its contrast ratio of 1028:1, peak brightness of around 330cd/m2 and low black level of 0.32cd/m2 all meant there was still plenty of dark shadow detail to be found in games and photos alike.
The thing is, regardless of whether a laptop costs £3100, £2700 or even £2300, I'd want perfection at this kind of price, and a keyboard tray that feels like it's slowly grinding my wrists into dust doesn't feel like it should be something I have to put up with, no matter what kind of gaming chops it has underneath. There's also its slightly mediocre sRGB coverage to consider, as well as the fact that its processor isn't as up to date as it could be. The HP Omen X 17, specifically the 17-ap003na variety, is certainly a powerful gaming laptop, but I'm not sure it's something I'd want to spend this kind of money on, or indeed play for long periods of time, without some kind of adequate wrist protection.