HyperX Cloud Flight review: Near wireless gaming headset perfection
Cloud 8.9999999999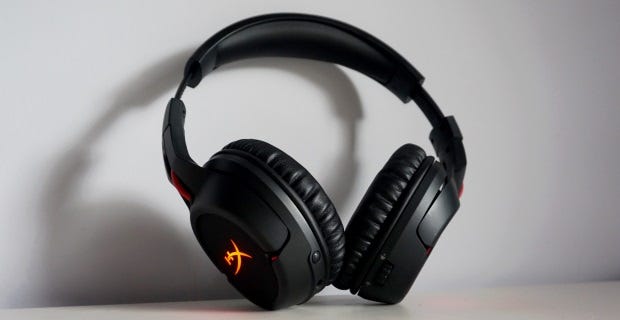 It's been barely a week since the annual CES tech bonanza shut up shop for another year, but HyperX has wasted no time getting in its very first wireless gaming headset out into the wild. Dubbed the Cloud Flight, this 2.4GHz headset boasts the longest battery life of any of its wireless competitors - up to a whopping 30 hours to be precise.
That's enough time to play a complete run through of AC Oranges or that same cathedral at the start of Dark Souls III over and over again because god damn Vordt of the Boreal Valley is just too damn hard. The question is, is it actually any good?
First impressions are certainly high. While the Cloud Flight's exterior is largely made of plastic - a touch disappointing considering it will set you back £140/$160 - it still feels reassuringly robust to the touch and its soft, plush ear cups sit very snugly against your face. The bendy microphone's detachable, too, so you can even wear them outside while you're travelling without looking too silly - provided you turn off the LEDs with a quick tap of the power button, of course.
To play audio wirelessly, all you need to do is plug its USB dongle into your PC and the Cloud Flight pairs with it in seconds. Easy. Just in case you do want to want to use it as a wired headset, though, it also comes with a 3.5mm analogue cable in the box. This slots in to the left ear cup just next to the micro USB charge port and the mic jack. The only downside is that the mic and ear cup controls won't actually work in wired mode, so you'll have to go through the laborious process of manually adjusting the volume yourself on whatever device you're using and make do without any chat. Other than that, everything started off very peachy indeed.
But oh, that headband. As comfy as the earcups were, that gnawing, pinching sensation on top of my head started to creep in around the one hour mark. That's better than the Roccat Khan Pro, but still a far cry from the weightless, cloud-like sensation of the Steelseries Arctis 7 and Corsair Void Pro RGB. The second tightest setting got me a little further (any more and it would have slipped clean off my face), but I still had to take a break after roughly 90 minutes or so.
During that hour and a half, though, the Cloud Flight was absolutely stunning, and its depth, clarity and overall balance were so immersive that it felt like I'd sunk into the musical equivalent of a hot bath. It's easily the equal of both the Arctis 7 and Void Pro RGB, and I'd be hard-pressed to say which one was better in my suite of test games.
The whispering voices in Hellblade, for instance, had a haunting intensity to them that significantly enhanced its depiction of Senua's mental illness, and at no point did they feel like they are being smothered by the world's raging winds and low, ominous soundtrack.
The same goes for the screams of The Evil Within's creepy hair monster, which have never sounded so piercing against the industrial thrum of the game's backing music. Doom, likewise, sounded suitably bassy without overwhelming the drivers inside each ear cup, and unlike the Roccat Khan Pro, provided near pin-point accuracy when it came to tracking down those last few baddies.
The Cloud Flight's great for ordinary music, too. It handled busy orchestral tracks with ease when I set my Final Fantasy XV soundtrack going, its warm, rich bass sounding perfectly balanced against its more delicate piano sections, and it took everything from pop to gothic rock completely in its stride, making me wish the headset was just a fraction more comfortable so I could carry on listening for longer.
The Cloud Flight's battery life is also excellent, pulling far ahead of the Arctis 7 even when its LEDs are set to 'breathing mode'. Whereas the LED-less Arctis 7 is rated for just 15 hours use, the Cloud Flight can manage 30 hours with them turned off, 18 in breathing mode and a still respectable 13 hours with them on full-time, according to HyperX. Not bad considering both headsets currently cost the same in the UK.
The microphone put in a pretty good performance, too. There was a bit of pop and a few audible wind effects when I had it positioned too close to my mouth, but this was quickly rectified by bending it further away - around 9-10cm seemed to be the sweetspot, but it's very easy to adjust depending on your individual preferences. The only slightly annoying thing about it is that there's no LED on the end to let you know if the mic's muted or not. Instead, you have to press the left ear cup and just remember if it beeped once (off) or twice (on).
Otherwise, I have few complaints about the HyperX Cloud Flight. Personally, I'd probably still go with Steelseries' Arctis 7 just because I can wear it for longer without getting a headache, but the Cloud Flight's superior battery life certainly casts a bit of shade over the Arctis 7's previous brilliance.
Then again, I do quite like the Arctis 7's chat-mix slider, which lets you filter out multiplayer chat or turn down the game's overall soundtrack, and the small LED on its mic is another nice touch that just makes it a fraction easier to use. The HyperX Cloud Flight definitely doesn't disappoint when it comes to overall audio quality, but sometimes it's the little things that make all the difference.