Hypnospace Outlaw's Kickstarter Longs For Hot Dad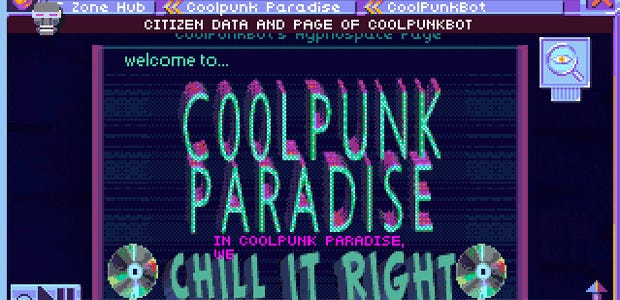 Good news: it seems we will get to surf the GeoCitylicious future-Internet of Hypnospace Outlaw [official site]. Dropsy developer Jay Tholen's Kickstarter for his new game has passed its goal, see.
Hopeful news: the icing on the cybercake would be hitting a stretch goal to recruit the musical talents of Hot Dad. I've got it bad for Hot Dad. For three chuffing weeks, several of Hot Dad's fake TV theme songs, corporate anthems, and political cheers have been stuck in my head. They're the worst and most wonderful earworms and I would be so happy to hear him in Hypnospace.
To recap, Hypnospace Outlaw is a game about being a cybercop on a futuristic sleeptime Internet. It's a little bit GeoCities and a little bit AOL, all animated GIFs, personal homepages, embedded MIDI songs, silly sound clips, virtual pets, and such lovely colours. I adore the whole idea of it. But as a futurecop, we'll have to scan pages, chatrooms, and so on to track down people violating Hypnospace rules then bust them in arcade-y car chases.
Then there's Hot Dad. I've been meaning to mention this since Tholen announced the stretch goal weeks ago but every time I start writing, I end up sitting here chanting "Jeb Jeb come on Jeb! C'mon Jeb Jeb!" (that's from his campaign song for Jeb Bush, which also reels off Apple products), singing fake TV theme songs like the moody Are You Afraid of the Dark? song, or wrestler's themes, or fast food praise, dad rock, odes to old memes... it's very distracting. Hot Dad's songs manage to be irritating yet funny, cheesy yet often clever and ear-catching, exaggerated yet earnest, ah, they're very good. My favourites are those which keep on going and going, repeating sections until they become hypnotic. Check out his YouTube and Bandcamp and stuff.
And if the Hypnospace Outlaw Kickstarter hits $34,000, Tholen will bring in Hot Dad to create ad jingles to appear in-game. I would very much like that. As I write, the Kickstarter is just under $31,000 with one-and-a-bit days left. Fingers crossed, gang.