In Which Far Cry 3's Jason Brody Punches A Shark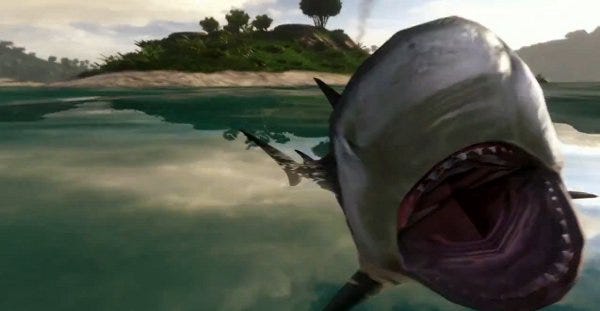 Admittedly, Jason does other things in Far Cry 3's new story trailer aside from punching a shark. But really, is there any tale more gripping or universal than that of one dude, one shark, and one fist? The biting, the panicking, the punching as beady little eyes register no pain. In that moment, we find the truest definition of the human condition: not shark. And then, after that brief spasm of profundity, we get Jason talking about his captive friends and such. He speaks with conviction, too, but I think we all know what's swimming around in the back of his mind: he punched a shark, and he liked it.
OK, yeah, it seems a bit cheesy. The crazy cast of villains will probably be decently entertaining, but Far Cry 2 this ain't. Then again, FC3's creators have said there's more to it than meets the eye in the past, so I'm hoping the thick layer of cheese smeared across the lens is purposeful - not simply a product of, well, writing a story for a first-person shooter.
In other news, Far Cry 3 went gold recently - for all platforms, including PC. So its very un-Ubisoft day-and-date-with-consoles launch seems to be moving ahead unimpeded. Specifically, it's dropping November 30th in the UK and December 4th in the US. Will you be lining up to finally settle the score between man and exceedingly hostile wildlife?