Inkle's Sorcery! Adaptation Finally Hits PC In February
Based on the gamebook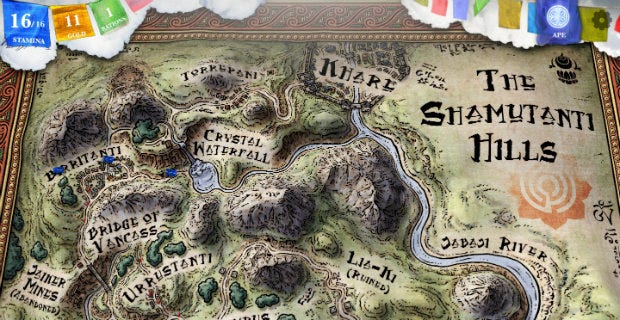 Ever since I played globetrotting adventure 80 Days I've been looking forward to Inkle's other adaptation, Sorcery! [official site], finally hitting PCs. Earlier this week we said parts one and two were on the way "very, very soon." Now we can amend that to a real date: February 2nd.
Part three is set to follow this spring, while part four will see a simultaneous cross-platform release "later this year." It'll all be on Windows and Mac.
If you're unfamiliar, Sorcery! is an adaptation of Steve Jackson's adventure gamebooks of the same name, hailing from the Fighting Fantasy series of the 1980s. If you're too young to know what a gamebook was, think of it like a cross between a tabletop RPG and a choose-your-own-adventure. And if you're too young to know what a choose-your-own-adventure was, think of it like a video game... in a book.
Kids these days.
So yes, Inkle have been adapting these video-games-in-a-book into proper video games, and from what I've heard they've done a brilliant job. Blending the studio's knack for interactive fiction and some light combat, parts one through three have been out on phones for a while now. According to Inkle, the desktop release "will retain the masterful storytelling, artwork, and production values of the mobile originals, with larger text, new music, and a refined user interface providing a comfortable playing experience on bigger screens."
It's basically the same thing they did with 80 Days, and I'm excited. For more on Sorcery!—like, much more—be sure to check out our extensive interview with Inkle heads Jon Ingold and Joseph Humfrey earlier this week.