Insurgency: Sandstorm shows off story campaign
With co-op too!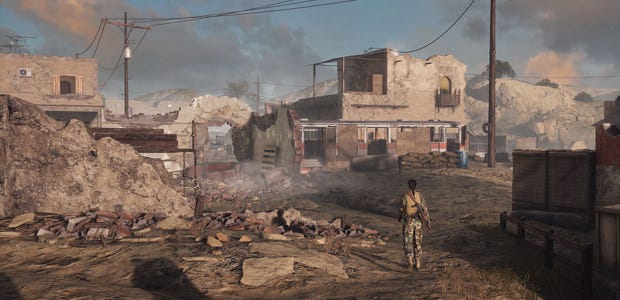 The follow-up to multiplayer tactical FPS Insurgency is adding a story campaign, and you can have a peek at that now in the obligatory E3 trailer. Insurgency: Sandstorm [official site] will star an Iraqi rebel fighter and her best friend, who are on a personal mission into a warzone accompanied by an American combat veteran and a French volunteer who's new to war. It's a grim road trip. It will support four-player cooperative play too, which is nice. The trailer's all cinematic-y but this is E3:
On the multiplayer side, Sandstorm is also due to bring support for bigger maps, vehicles, competitive and ranked matchmaking, improved ballistics, and other bits and pieces. It's jumped from Valve's Source engine to Unreal Engine 4, techfiends might also want to know.
Sandstorm is due in 2018, last I heard.
The developers, New World Interactive, have been busy since announcing Sandstorm. They've taken their World War 2 FPS Day of Infamy from a small free Insurgency mod to a standalone commercial game, travelling through early access to reach a full launch in March (with free updates following).