The Jackbox Party Pack 4 will bring Fibbage 3
You sorta know Jack by now?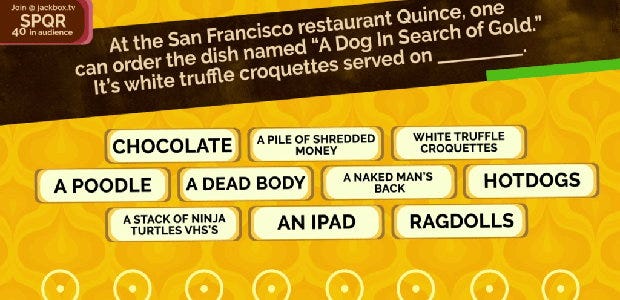 Every day is party day at Jackbox Games. They wake up in the morning feeling like P. Diddy, they grab their glasses then are out the door to commute through Chi-City, but before they leave they brush their teeth with a bottle of Jack because, as the song goes, when they leave for the day they ain't coming back until 6-ish. After such a lively morning routine, they set about making fine party games like Fibbage and Quiplash. Over the weekend, Jackbox announced they have another instaparty coming this autumn, The Jackbox Party Pack 4 [official site]. It'll bring Fibbage 3, among others.
Jackbox, to refresh your memory, are the studio formerly known as Jellyvision. They made the fine and funny You Don't Know Jack quiz games, and in recent years the Jackbox Party Packs. Those are bundles of five (so far, anyway) small multiplayer games, digital versions of the sort of thing one might play at a family Christmas or a dinner party in a sitcom where one randy neighbour ha-ha-hilariously gets the idea it's a key party. The games are made for local multiplayer but, as players control it by logging onto a website on their pocket telephone or whatnot, they also work well through Skype screen sharing and such.
One of the more popular Party Pack games is Fibbage. It's a silly trivia game where players get to add made-up answers of their own to the pool of possibilities, trying to fool (or entertain) everyone else. That'll return in the Party Pack 4, Jackbox say, with one notable change. Explaining that ↑ Fibbage 3 screenshot, Jackbox said:
"Especially eagle-eyed fans might notice that there are 10 choices in that screenshot, rather than the traditional max of nine. That's because this time around, the audience gets to join the fun by voting on their own decoy lies, and guessing the truth along with the players. Now, fooling the audience can really boost your score, so make sure to get as many gullible people as possible to join!"
That's about all we know about Fibbage 3 and the Jackbox Party Pack 4 for now. Autumn it is.