New Avalanche game Generation Zero does giant deathbots in 80s Sweden
Open world murderforests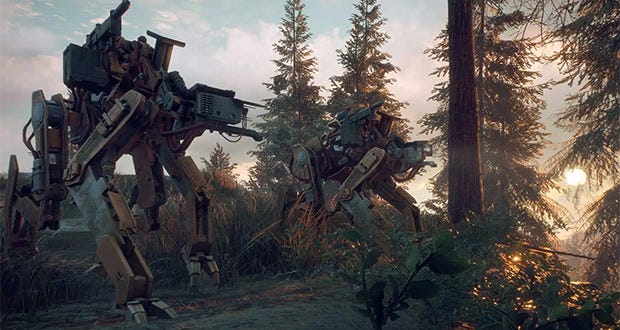 A third Short Circuit film was never made, but I think we all know what course it would have taken: feeling betrayed by the discovery that his best friend had inexplicably pretended to be Indian to him for years, self-aware military robot Johnny 5 decreed humanity to be a cruel and deceitful species, and raised an army of fellow machines designed to eradicate them. That's my headcanon explanation for why Avalanche Studios' new open world game Generation Zero features bandanna and mohawk-wearing humans versus hordes of cute-but-murderous robots, anyway.
Yup, fresh off the back of their sale to a Scandinavian movie company, the Just Cause, Rage 2 & Mad Max devs have announced their new thing, and it's all about "playing war in the serene forests of 1980's Sweden." Sure, sure, we're drowning in faux-80s stuff right now, but watch this and tell me it doesn't look like a good time.


Generation Zero is open world, and as well as solo play has full co-op multiplayer (for up to four players), so unlike the Just Causes, we don't need no mods for this one. It's described as "tactical", and features equipment-scavenging and trap-setting as part of a roaming fight against these woodland deathbots. But the ear-pricking bit for me is hearing that we get stuff like a day/night cycle, random weather and - ooh - wounded enemies will retain any damage you dealt to them before they got away, so the next time you run into them, they'll still be missing that arm, weapon or sensor or whatever.
My brain keeps thinking about 'STALKER' and it probably shouldn't, as this is obviously an awful lot more manic, but... my brain keeps thinking about STALKER. Persistence in a weird and spooky, countryside+weird science place: I am down with that.
If they make it work, of course. The 80s stuff particularly is a fine line these days - dark synths, red bandannas, boomboxes and baseball jackets abound right now. Still, the foresty Scandi setting is a new twist, and game director Emil Kraftling reckons it's a labour of true love, as opposed to Stranger Things cynicism: "It's an ominous recreation of our childhood fantasies, playing war in the serene forests of 1980's Sweden. We can't wait to bring the game's tense open-world exploration and adrenaline pumping tactical action to players everywhere."
Self-published by Avalanche (or, at least, their new owners Nordisk Film), Generation Zero is due for release on PC and console in 2019, there'll be more it on show at E3, and here's a website with more bits and pieces for you.