Knight Here, Knight Now: King Arthur's Gold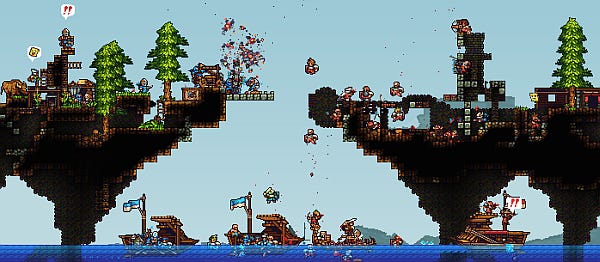 It was 2011 when RPS took its first and only look at King Arthur's Gold, a 2D multiplayer action game from the makers of Soldat that's been inspired by Minecraft, Age of Empires, and TF2. It remained in alpha (Alphurian?) for all the time in between. That time was well spent: new graphics have been chiseled out, and there's now mod support. Merlin waved his wand (tee-hee), and now the ever-so silly medieval multiplayer game has grown some teeth. It is beta, it is buyable, and it looks like a lot of fun. I have hollowed out a hole for some videos beneath.

It is a fight for the other team's gold. Grab a builder, knight and archer, and build an impregnable (or willy-shaped) base, while assaulting the enemy. It's a proper little battleground, with battleships and catapults aggressively attacking collapsible structures. I really like that idea: the construction is based on support, not just carving out squares that will end up floating mid-air. Trees are felled, walls built, but with dynamic fire and water, not to mention fricking drills and rideable sharks, things can change over the course of a fight. I'll be hopping on this when my frightening backlog of games has shrunk.
Here's the beta trailer.
Here's a fuller video, showing a bit more of the game.
You can buy it for $10, and that's not even a risk: "When purchasing on this site you get a money back guarantee. This means that there is no risk in buying and trying the game. If for some reason it doesn't work or you just expected something else contact us for a full refund."