Layers of Fear is free on Humble today
Fear to play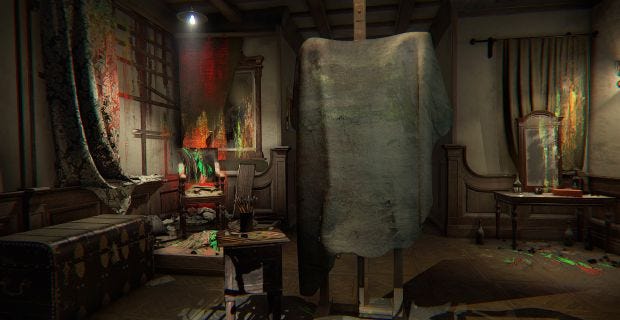 What do you call a storefront dummy wearing a Star Wars costume? Mannequin Skywalker. Hello, this post has nothing to do with Star Wars and only a little to do with mannequins. Painterly horror game Layers of Fear is free on Humble today. It's a short game, about three or four hours long, and contains ghosts. In many ways, the perfect stocking filler.
You can download free it from Humble until Wednesday at 6pm GMT/10am PST. Are you reading this too late? Ha ha, you missed your chance. Here's what you lost out on, according to Adam:
Layers of Fear sets out to provide spaces within which you feel unsafe and doors that you'd rather not open, and it has both of those things in abundance. Sometimes you'll hesitate to open a door because something has been rattling the handle and you'd really rather not stand face to face with whatever that is, and sometimes you might even decide it'd be best to quit the game and have a mug of hot chocolate because whatever is around the next corner is likely to make you extremely unhappy.
The developers went on to make Observer, a psychological cyberpunk walkabout about a detective played by Rutger Hauer trying to find his son. Adam says it was better. But it's still asking you for money. Disgusting.
As usual, you'll need an account on Humble to get Layers of Fear for free. But that takes a couple of minutes. You also get the soundtrack with it, which I assume is just a collection of distinct screams and sobs.