Legs & Fats: Portal 2 Co-Op's A Charmer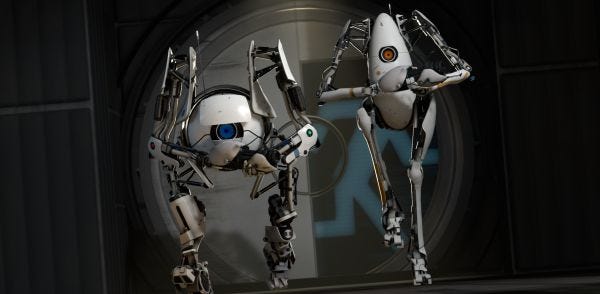 I awake from a seven hour post-food poisoning slumber feeling beyond awful, but am instantly cheered by the latest in Valve's unending stream of Portal 2 tickles. This time, it's a lot more meaningful than a snatch of puzzles, environments or Ricky Gervais' mate. This time, it's the co-op in full vidaction - and, quite clearly, cast-iron confirmation of what the next Valve plush toys'n't-shirts we'll all be squeeing helplessly at will be. Go Laurel, go Hardy.
Old news to anyone who was at PAX (or watched wobblecam footage from it), new, high-def news to the rest of us. And the moment two new iconic Valve characters are born, I suspect.
Here's a blurry walkthrough of the co-op mechanics too, proving just how cute and expressive mute robo-chums Legs and Fats (they've not been blessed with official names yet, so let's devise our own affectionate handles for the modified ambulatory turret and personality core) are even when just dossing about.
But oh, the potential for arguments in Portal 2 co-op. The degree of genuine co-operation, rather than both running to the front and shooting everything, is going to be pretty profound. Both players will surely have to be almost 100% servile to each others' wishes and suggestions - which means I will be unable to play this with at least 97% of people I know.