Lian Li's bonkers Strimer RGB power cable is now up for pre-order
Light it up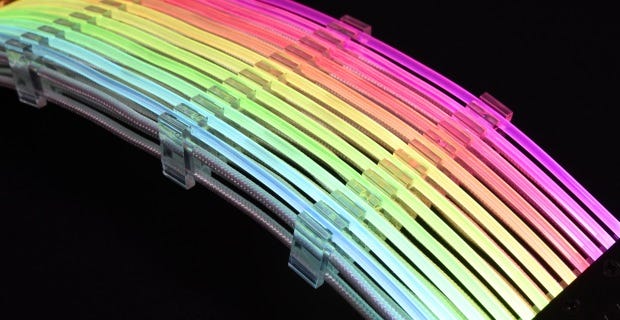 Just when you thought PCs had reached their maximum RGB capacity, case maker Lian Li has only gone and plonked another 12 of them straight onto your PSU's main power cable. First announced at this year's Computex show in Taiwan, Lian Li hope their new Strimer RGB cable will bring yet another taste of the rainbow to your beloved tower - and it's now available for pre-order.
Going for £35 / $40 / €40, the Strimer RGB cable should slot in seamlessly with every PSU currently available today. It has its own in-built 24-pin ATX extension cable for maximum compatibility, and Lian Li has even including a mounting mechanism so it fits in securely with your existing cables.
Lian Li have also improved the design of the Strimer's connector since it was first unveiled at Computex, making it wider for extra durability and giving it a better lock so there's no chance of it coming loose.
You don't even need a new motherboard in order to take advantage of its 10 integrated lighting options either, as you'll be able to activate each and every one of them from the cable's built-in controls.
Of course, those with fancier motherboards will also be customise the Strimer's 12 optical fibres by sticking one of its additional connectors (see below) into an addressable RGB header pin on your motherboard. It's compatible with both Asus' Aura Sync tech and MSI's Mystic Light Sync Rainbow software, too, so you can make it flash in time with all your other RGB components as well.
Naturally, there's probably not much pointing buying this cable if your PC case doesn't have a nice window or tempered glass side panel in it so you can gaze longingly at its rainbow light show while playing your favourite games, but at least it makes a nice change from the boring old black sleeves you normally get with the standard one that comes with your PSU.
Indeed, Lian Li say they hope the Strimer RGB will help 'revolutionise the cable management game' in their press bumpf, but my main concern is how easy it will actually be to install into your power supply and keep tidy inside your case. Hopefully I'll be able to get one in for testing very soon.