Madden NFL 19 tees off on PC
It's coming home, it's coming home, it's coming: handegg's coming home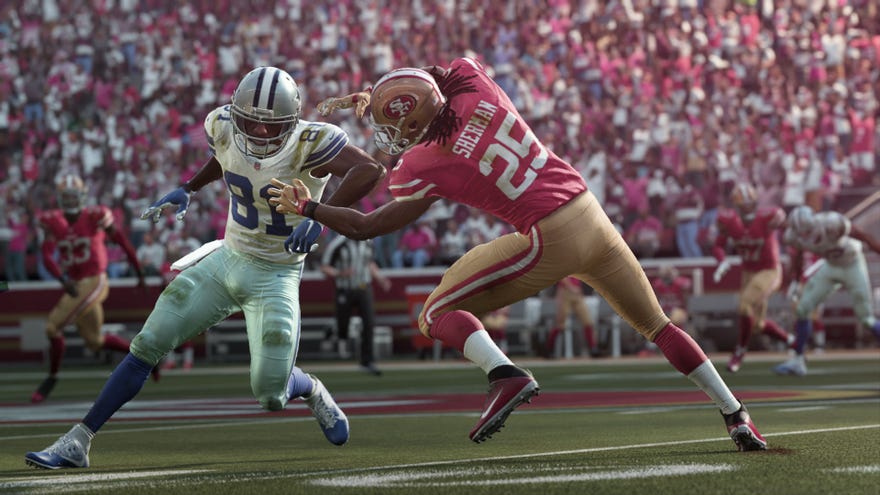 After an 11-year absence spent lurking on consoles, EA's American handegg series has returned to PC with the launch of Madden NFL 19. I am keen to probe its mysteries. We all know the sport is a competitive adaptation of the great English tradition of spending bank holiday Monday in a traffic jam on the M25, as represented by men the size of Ford Transit vans charging mere yards before abruptly stopping over and over until someone somehow wins a point and gets their pick from the tin of Simpkins travel sweets, but the specifics are lost on me. Let's crack this handegg open.
This latest annual sequel brings... aw heck, does it matter? It brings a PC release. This year's big feature is that you can play Madden on PC. The last Madden game EA released on PC was Madden NFL 08 way back in 2007. Other American handegg games from other developers have been on PC since then, of course, but EA have the big bucks to buy the big franchise licenses and the technology to make digital men sweat real hard.
If you do want specifics, EA gab about tech "designed to deliver hyper-realistic animations with a higher level of gameplay" along with "broadcast-quality graphics" and advances in "player experience" which they say "give players more control and responsiveness while bringing in fresh gameplay concepts to push Madden to unbelievable heights." So, y'know, it's like the last one but prettier and tweaked a bit. But we can save this weary cynicism for next year: the jump from Madden 08 to Madden 19 is quite substantial.
Madden NFL 19 is out now on Origin, priced at £55. Or it's one of the games that Origin Access Premier subscribers can play for 'free' as long as they keep paying their £15/month (£90/year) subscription fee.
Origin Access Premier is EA's subscription service tier which lets folks play all of EA's new games without buying 'em, remember. It's a pretty poor proposition right now, but will become more enticing as new games including FIFA 19, Battlefield V, and Anthem roll out across the coming months.