Free To Clay: Mafia 3 Patch Suits Up And Fixes Bugs
Lincoln the description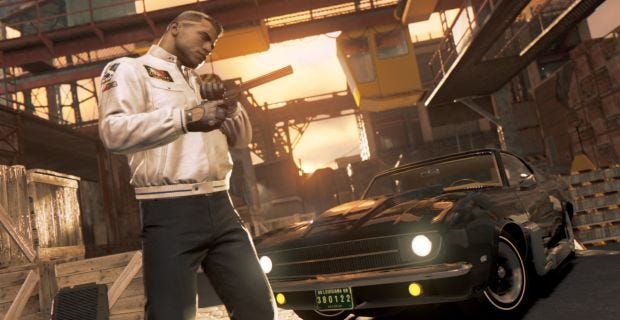 Our John thought Mafia III [official site] was a "vast, seemingly unfinished calamity" but you might think that he is wholly, objectively wrong. If that's you - happy days. 2K have released an update that gives New Bordeaux's revenger-in-chief a bunch of outfits, some of which you've already seen if you've gone through the story and some of which are new. Alongside these new threads, there's some bug fixes and performance improvements and all that sort of thing, you know, the things that matter, blah blah blah. But yes, let's see some outfits.

There are 11 outfits in total, five of which are fresh additions, according to the update notes. There's Dapper Lincoln, Waiter Lincoln, Professional Racer Lincoln, Federal Agent Lincoln, and some more, including a whopping five types of War Lincoln. To select a new outfit you have to head to a wardrobe in your safehouse (or another hideout) after at least reaching the "Somethin' I've Got To Do" mission.
Of course, there's also the requisite tweaks to the codey side of things, including "UI improvements", "improved car reflections" and fixes to "various issues for Cassandra's Contraband missions". I'm not sure if it's enough to fix something we described as a "saggy, bloated open city that no one was asking for", despite having a huge amount of missions and stories. But there'll be even more of said content in the future, say 2K, including an update which will focus on races and customisable cars.