Mass Effect Andromeda gets a release date (it's March)
Find some good paths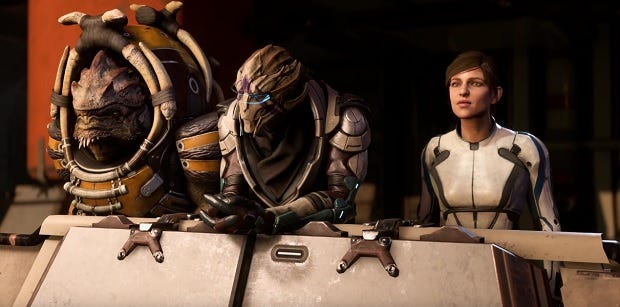 Lovers of intergalactic dating sim Mass Effect will be happy to learn that the newest game in the franchise, Mass Effect Andromeda [official site], will be coming out this spring. The United Statespeople will see it first on March 21, with Europeanfolk getting their alien booty call on March 23, according to an official statement from BioWare's Aaryn Flynn. Isn't life splendid?

"We appreciate your patience," said Flynn, "(and in fact, even your lack of patience in some instances) as we've been focused on completing the game."
Alice has already done a good job of rounding up the things we know about the new (mis)adventure so far. The most important thing to note is that the old Renegade vs Paragon morality system has been shooed away and replaced by something BioWare says is more "nuanced". There are now a thumbless handful of responses your character can have: heart, head, casual or professional. The class system likewise has been scuppered, letting players now pick and choose perks and abilities more freely.
Story-wise, you'll be playing as either boy Ryder or girl Ryder, who are brother and sister. My money is on the unchosen sibling dying in the opening hours, galvanising your surviving Ryder into the maverick spacekiller we will all learn to love. Will it be that simple? I guess we'll find out in a few months.