Report: Mass Effect is taking a nap
Series 'on hiatus', say rumours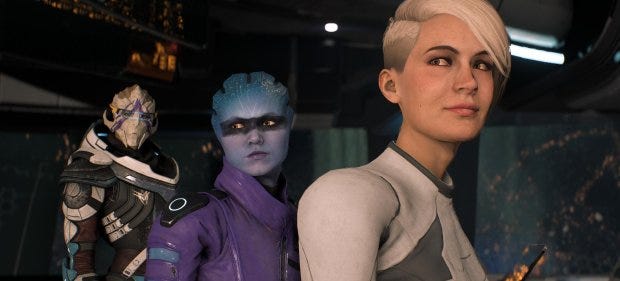 It's a bloodbath in Old Gamestown today. Square Enix have tragically called a halt to Agent 47's Hitman career, despite his being at the peak of his powers, and meanwhile Kotaku report on rumours that EA has grounded the Mass Effect series in the wake of frowny reception to this year's Mass Effect Andromeda [official site]. Word is that the devs have been moved onto other projects instead of the second game in a planned new trilogy. It seems that the Pathfinder cannot find a way forwards after all.

All is mere rumour until there's an official statement one way or another, of course. None of this may ultimately prove true. However, EA did provide a response to Kotaku that did not actually deny any of it, with this being the line that makes me uh-oh the most:
"With our BioWare and Motive teams sharing studio space in Montreal, we have BioWare team members joining Motive projects that are underway. We're also ramping up teams on other BioWare projects in development."
This seemingly corroborates Kotaku's claims that "BioWare has put Mass Effect on hiatus and turned Andromeda's developer, BioWare Montreal, into a support studio" for EA Motive's Star Wars Battlefront II and an undisclosed Bioware project codenamed 'Dylan.' However, a big company like EA isn't going to announce that another Mass Effect is on the slate until their marketing schedule is good and ready, so while their statement seemingly aligns with the report, it doesn't yet prove anything.
Bioware HQ is in Edmonton, Canada, by the way, with additional studios in Austin and Montreal. The latter created Mass Effect Andromeda, with Kotaku reporting their sources as claiming the divisive game suffered "brutal development process for several reasons including technological challenges and a major scope change late in development development."
Now Montreal has been 'significantly' downsized, allege Kotaku, and the Mass Effect series will "sit for a while."
On the downsize claim specifically - big publishers and studios are notorious for reducing headcounts during the times when a new game is not in full production, so reports of layoffs or being moved to other studios could simply be that, with Montreal likely to staff up again once a new Mass Effect is in full swing. But, again, Kotaku's sources claim that isn't going to happen any time soon.
This doesn't mean Mass Effect is dead, of course. Hell, a rest is even a good thing - elements of Andromeda felt rushed despite its many years in development, so doing another one right rather than rolling straight into it makes plenty of sense. As does letting affection build back up - absence makes the heart grow fonder, whereas releasing another game straight off the back of one that people felt disappointed by might not.
However, all these rumours seem to fly in the face of a statement to investors by EA boss Andrew Wilson that the publisher is "very happy with how BioWare is doing, how BioWare is treating Mass Effect. And our expectations for Mass Effect are still strong for the future and the franchise overall." That said, he's not exactly going to say "aargh, everything's on fire, it's all over for one of our biggest cashcows" to people who put money into his firm, is he?
Finally, here's the full statement EA gave to Kotaku, which was attributed to BioWare Montreal studio director Yanick Roy:
"Our teams at BioWare and across EA put in tremendous effort bringing Mass Effect Andromeda to players around the world. Even as BioWare continues to focus on the Mass Effect Andromeda community and live service, we are constantly looking at how we're prepared for the next experiences we will create.

"The teams in EA Worldwide Studios are packed with talent, and more than ever, we are driving collaboration between studios on key projects.

"With our BioWare and Motive teams sharing studio space in Montreal, we have BioWare team members joining Motive projects that are underway. We're also ramping up teams on other BioWare projects in development.

"There will be much more to come from BioWare in the years ahead."
Note also that the only mention of Andromeda's future is "community and live service" rather than improvements to its campaign or future story-based DLC. May be it's simply cards close to chests, or may be that they're giving up on trying to meaningfully improve it.
All the best to any Bioware Montreal staff facing uncertain futures if any of this is true, and I hope, some day, this series can fly high again.