MAXMIMUM HYPE: The Big Crysis 2 Reveal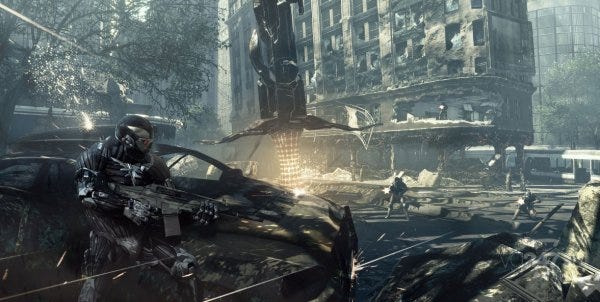 The internet is about to be ablaze with info from the recent Crysis 2 event in New York, which I totally didn't get invited to. I'M NOT BITTER. Fortunately news-sleuth Pat from VG247 has a load of it, including an interview with Crytek superboss, Cervat Yerli. Not much concrete on the PC version, other than suggestions that it will be "best". The impressions of the game sound impressive too, even if it is more aliens, and even if it did cause Pat to collapse into some kind of modernist experimental streamed free-association brain-burst:
Wall Street, through a tunnel and someone talking in ear, like fucking wow, epic scene of crumbling buildings and falling debris player drops out onto ledge and room gasps just fucking awesome zooms in Chrysler building and down onto street trees and burning cars marking enemies scanning MAXIMUM ARMOUR CLOAK ENABLED grab from behind, invisible sneaking round on rooftop shoots human enemy through something like solar cells distance marker on enemies...
Yeah. [There's also an interview with Mr Yerli, by the excellent Miss Alexander, just here.]