Mayday, Mayday! - Metro: Last Light Releasing In May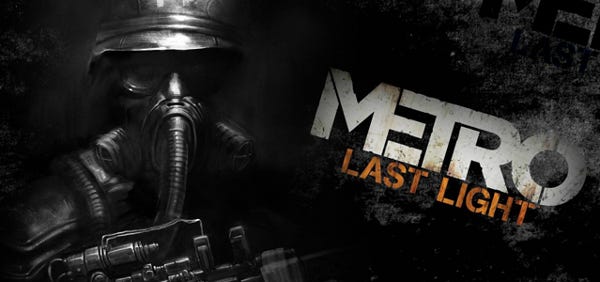 April showers bring incredibly bleak May doomsday scenarios. My mother always used to tell me that, right before encouraging me to succeed with sagely tidbits like "Your generation will doom us all." I'll admit that a bit of it went over my head. Now, though, it's beginning to make sense, seeing as Metro: Last Light's blown back the radioactive vapors from THQ's nuclear self-destruction to reveal a May launch date. So hooray! I finally understand my childhood. Also, videogames. Details after the break.
Last Light will bring its brand of paradoxically pitch black train tunnel intrigue to North America on May 14th and everywhere else May 17th. Because nothing says "lightspeed techno-magic of the digital age" like an arbitrary release date gap. It's not all slightly bewildering news, though. A little extra development time can go a long way, and 4A intends to make the most of the slight delay.
"The extra time will go towards a final layer of polish, in order to provide fans of mature and atmospheric first-person shooters with the best possible single-player experience we can offer. We are working on details for pre-orders, and hope to have these available soon."
You'll remember that Deep Silver - they of Dead Island and now Saints Row fame - have taken over publishing duties on Metro. Happily, they also seem quite dedicated to making Last Light the best game it can be, so everybody wins. Except for Russia. Things, um, aren't looking so great for them.