Might & Magic Showdown lets you paint your champs
Paint it black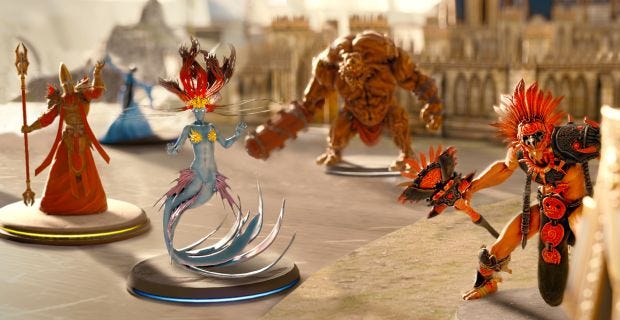 The trailer for the new Might & Magic Showdown [official site] is either the most unabashed celebration of childhood nerdiness or a sly reminder of our collective arrested development. I'm going with the former, because I am a giant smiling child. Incidentally, this magical battling arena is now early accessible, and most importantly, there's also a free standalone game called the Paint Workshop that lets you paint the miniatures with tiny virtual brushes.

Wasn't that heartwarming and a little embarrassing but a nice kind of embarrassment like a sheepish kind of embarrassment where really you're quite happy inside? The "tactical PvP combat" of the game itself is a mix of programming your heroes to fight a certain way and performing some actions in real-time as they clash with your opponent's heroes. There's 20 little scrappers, either Hero types or Creature types. Heroes you control as they fight, bringing one at a time onto the field, whereas the Creatures have to be programmed with a tactics editor and will act according to how you've "trained" them. This video in a development blog post explains things in a little more depth.
The Paint Workshop meanwhile lets you slather five champions in whatever colours you want (even if you don't buy the fighty game) in an effort to make them look intimidating or daft. Remember doing that? Pip does, because she only did it last week (that's a supporter post, sorry plebs!) Her and Alice are going to have a gander at this digital equivalent of steady handed micro-artistry and see how badly they can blot out the eyes of a golem. I'm standing far away from them.