Mini Metro has turned me into my worst nightmare
Riding the gravy train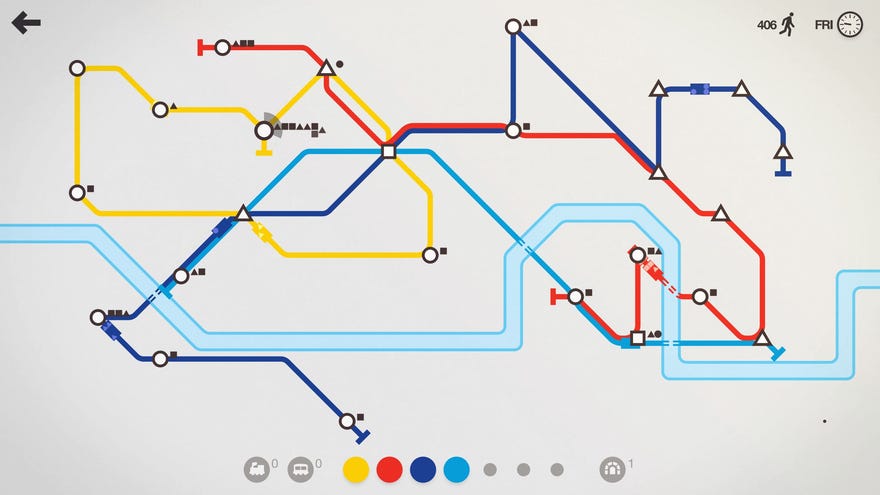 As someone who once spent at least three to four hours trapped inside an overcrowded rail carriage every day for the better part of five years, often rubbing literal shoulder blades with the soft, sweaty flesh of London's fat cat business types, it's probably fair to say that trains and I are no longer the best of friends. I know there are plenty of people with worse commutes than mine, but nothing drains the soul faster than hearing that dreaded 'ding dong' call ring out over a station's tannoy announcing yet another delay to your already beleaguered journey.
Thank the train gods (i.e: the fine folk at Dinosaur Polo Club), then, for Mini Metro, which has somehow managed to singlehandedly restore my fractured relationship with the world's transit networks by turning me into the very thing I've come to hate with every fibre of my being: an incompetent railway fat cat.
*DING DONG* "We are sorry to announce that the 15.00 supporter post on Mini Metro is being delayed due to Katharine being unable to put down this damn game."
Read the rest of this article with an RPS Premium subscription
To view this article you'll need to have a Premium subscription. Sign up today for access to more supporter-only articles, an ad-free reading experience, free gifts, and game discounts. Your support helps us create more great writing about PC games.
See more information