Minimalist puzzlers Mini Motorways and Mini Metro are getting crossover maps this summer
To celebrate the series' tenth Miniversary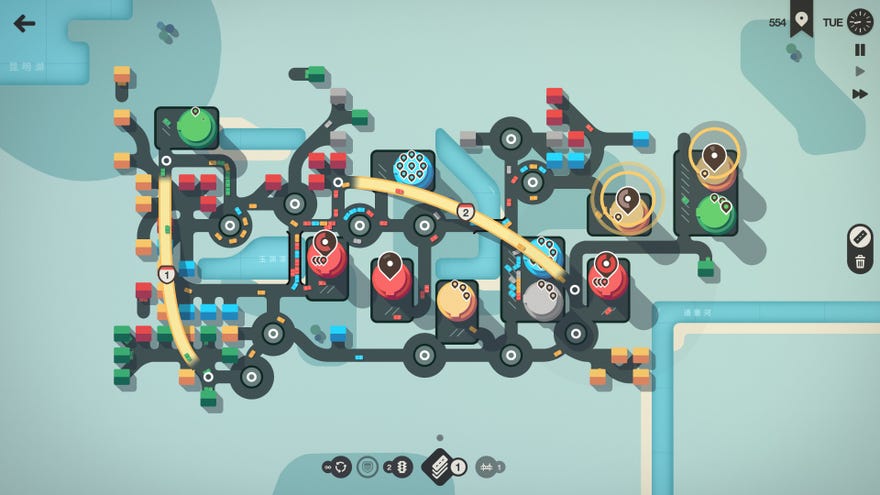 Minimalist subway management sim Mini Metro and its overground follow-up Mini Motorways are getting a crossover update on July 24th to celebrate the series' tenth birthday, developer Dinosaur Polo Club have announced. Maps from Mini Metros are headed to Mini Motorways and vice versa, along with some other additions as part of the nicely named Miniversary Update.
That Miniversary refers to Mini Metro's initial conception as part of a Ludum Dare Game Jam ten years ago, before the indie made a splash with its chill puzzling and colourful lines that emulate tube maps. The success of Mini Metro led to Mini Motorways a few years later, which aimed to bring that same transport management system onto road networks, rather than rail networks.
Later this summer, those colourful lines will become slightly blurred, as a fan vote decided that Mini Metro's New York City map would arrive in Mini Motorways. The bustling roads of London and Mumbai will also make their way over as part of the summer update - both cities are prone to traffic jams and anxiety-inducing roundabouts, so they should make for fun and/or stressful planning sessions.
Mini Motorway's new maps will also include the highly-requested feature: trains. On top of all the urban highways and endless roundabouts, you'll need to plan, build, and manage a rail system, too. Again, this could be either very fun or the road rage kind of stress.
If you prefer your abstract maps with fewer cars on the road, then you're in luck, as three maps are making a trip in the opposite direction, too. Tokyo, Warsaw, and Lisbon are riding onto Mini Metro, "awaiting adaptable railway systems and offering fresh challenges".
The RPS Treehouse have loved both strategy-puzzle-management games. Katharine's Mini Motorways review said its "varied puzzle pieces, greater environmental challenge and clearer visual presentation all add up to make Mini Motorways a worthy evolution of Dinosaur Polo Club's minimalist transport formula."
Mini Motorways is available on Steam for £7/€8/$10, meanwhile, a Miniverse Collection compiles both gems for a cheaper price. Hopefully, a Mini Walkable City puzzler can join the collection soon.