Mortal Kombat X's Long-Overdue Overhaul Patch Is Out
Tear out spines better than ever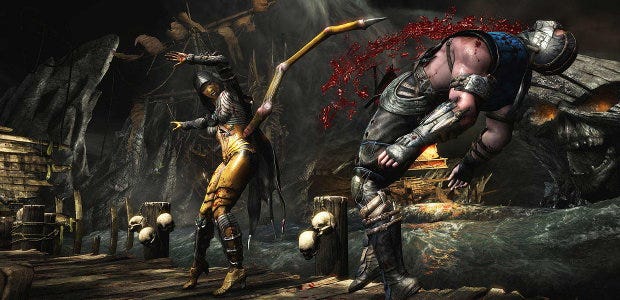 When the konsole versions of Mortal Kombat X [official site] got fancied-up earlier this year with new netcode and more (silly) DLC characters, we sat like lemons. Publishers Warner Bros. stepped away from the game, murmuring incoherently as they left.
Well, better late than never. Improved netcode, bug fixes, balance tweaks, and other technical improvements are now here, as MKX's big overhaul patch launched yesterday. Also out is the Kombat Pack 2 paid DLC, adding new characters like, uh, a Xenomorph. You may now resume crushing skulls and whipping out spines.
Yesterday's update is a good'un. Along with balance tweaks and fixes to match the latest konsole version, it brings nice PC-specific bits. Technobits improved include a new borderless windowed mode, better widescreen support, nicer shadows at high quality settings, and a fix for certain levels tanking the framerate. Good-o!
As for the long-delayed Kombat Pack 2, it adds five new fighters - Leatherface and an Alium, as seen in movies, along with Bo' Rai Cho, Triborg, and Goro - plus some skins and things. It's half-price right now, down to £7.49/9,99€/$9.99 on Steam. Given the state MKX was left in, the discount is a nice gesture.
Mortal Kombat XL, a bundle of the game and all its DLC, is now on PC too. That costs £29.99/39,99€/$39.99.
Or! For people who own Mortal Kombat X but none of its DLC, you can get all that in a bundle. It's on sale right now too, down to £9.53/12,43€/$12.43.
Those are your face-devouring options.