Narrative RPG Suzerain gets a royalty-focused expansion and 2.0 update later this year
Take the throne and do some scheming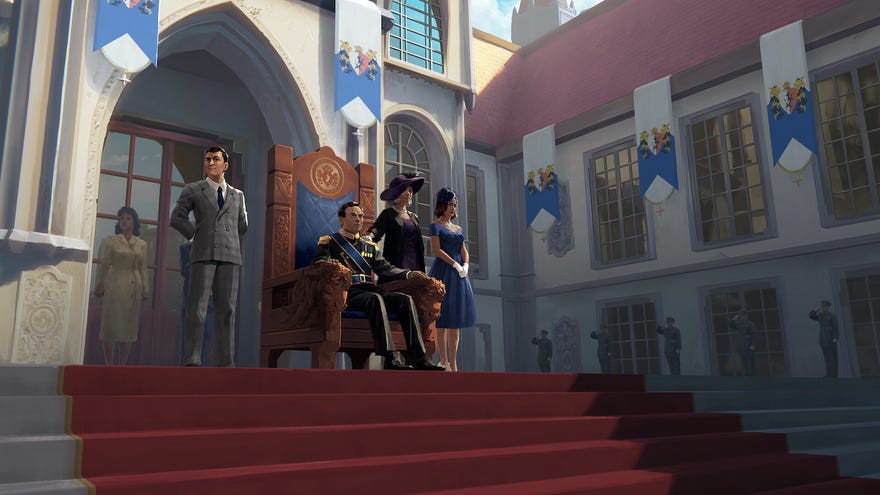 Developers Torpor Games have been teasing something mysterious over the last few months and they've finally shed light on their future plans. The acclaimed political RPG Suzerain is getting even deeper thanks to an upcoming paid expansion called Kingdom Of Rizia and a free 2.0 update called Amendment, the developers announced during this week's LudoNarraCon digital fest.
The free 2.0 Amendment update is set to launch sometime this summer, and it's aiming to improve the base game, which was very good to begin with anyway. Previously, you'd lose progress based on wrong decisions in Suzerain, so the update is adding the much-requested Torpor Mode "which allows for manual saving after completing the game once." Other quality-of-life features include world map integration and new interactions, although there's more political scheming to be had with "more story content that delves into the constitutional amendment, Bludish rights, and former Presidents."
The paid Kingdom Of Rizia expansion, meanwhile, is set four years prior to Suzerain and aims to expand the universe's lore. The base game's presidential leadership is being swapped out with a new system of government: the rulership of a monarchy, placing you on the throne of Rizia. The core loops remain the same, though. Geopolitical tensions begin to bubble up, forcing you to negotiate and/or scheme your way across neighbouring nations. Sounds like Kingdom Of Rizia retains all that was great in Suzerain while expanding it with new characters, situations, and choices. The expansion is arriving later this year.
With the extra additions incoming, the developers have decided to raise Suzerain's price from $15 to $20 when the 2.0 update drops to "reflect the value that Suzerain will offer and to help us in achieving this goal." For now, at least, you can grab Suzerain for a mere £3.80/€4.50/$4.50 with a whopping 70% discount on Steam.
Sin Vega loved her time stuck in Suzerain's political web, as she wrote: "This is a game that had me covering my mouth with disappointment at a betrayal, howling in triumph at cross-examining some legislation, and saying aloud to an imaginary billionaire "Threaten me again son and I will nationalise your shit"."
Happily, there's still more to come as the team's street-level follow-up The Conformist is set in the Suzerain universe and is coming "in a few years."