Naruto Shippuden: Ultimate Ninja Storm 4 Has Long Name And Story Trailer
Trying repeating that with a drink in you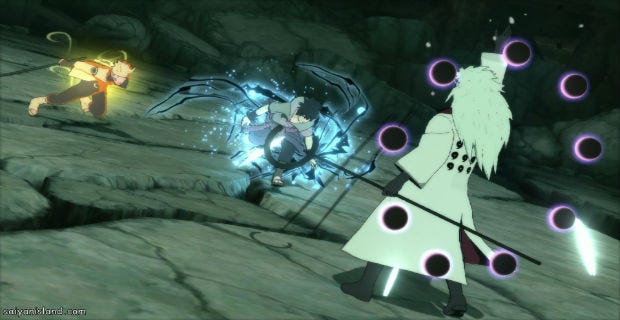 Naruto Shippuden: Ultima Ninja Storm 4 [official site] is one of the biggest names in video games, at 31 letters-long. Whilst there'll be some of you who'll be too young to get my reference to comedian Dennis Pennis just now, most of you will be of age to enjoy the latest story trailer from the Japanese anime fighting game.
So, what do you make of that? In my opinion, the new trailer highlights the backstory of Obito Uchiha and the overwhelming threat of Madara (Reanimation). The trailer also shows off Itachi Uchiha and Shisui Uchiha awakening into their Perfect Form Susano'o. Na, that's not my opinion, I copied and pasted that from the press release because, if you'll let me level with you, I didn't really have a clue what was going on. It looked pretty, though, eh?
Luckily, behind all of the hyperbole that tends to accompany the Naruto series pre-release lies a very entertaining fighting game - the stunning manga aesthetics testament to the high standards creator Masashi Kishimoto works to. I dipped in and out of the series' third installment a couple of years back and thoroughly enjoyed my time with it.
Naruto Shippuden: Ultima Ninja Storm 4 is due February 9, 2016.