Never Alone 'Foxtales' Expansion Coming July 28th
Includes boat in this, the year of the boat.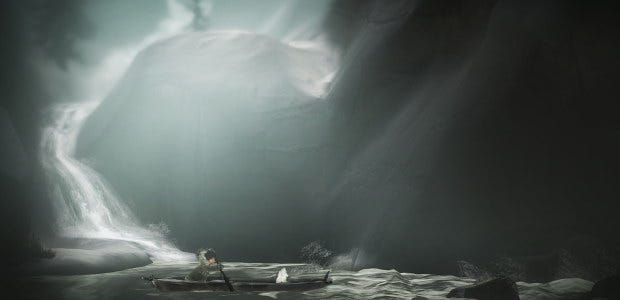 The adorable and culture-packed Never Alone [official site] is to get an expansion named Foxtales, publishers E-Line have announced today. It'll to focus on Nuna and Fox paddling their umiaq (a sealskin canoe) across frozen north-west Alaska now that spring has arrived. They'll also be swimming underneath the ice along with all the platforming above it as they work, based on the trailer below, to save a mouse from icy doom. It's based on a folktale called The Two Coastal Brothers, one of many that developers Upper One Games had considered before choosing Kunuuksaayuka for the original game.
Yes, I'll happily have another few hours of exactly that, thank you. Included with this DLC will be five more of the "Cultural Insight" videos that explain the histories and stories that inspired the game. This includes an interview with the family of Willie Panik Goodwin, the man who originally told them the Two Coastal Brothers story.
Here's what the press release has to say about what you'll be doing:
"Nuna and Fox will travel across open seas, swim through the ruins of a sunken village and paddle up the Noatak River on a mission to rescue a new friend. You'll need all your wits and the skills of both companions to survive the dangers of the swirling currents, fierce creatures and hidden underwater hazards of the Alaska coast. Only by working together can Nuna and Fox save their friend and defeat an unexpected foe."
John found the base game charming if a little shallow, but appreciated it managing to be both a decent platformer and an effective teaching tool, even if the two didn't mesh well together. You can grab it on Steam and various other places including the official website. With Foxtales so soon, it's a good time to get cracking if you've been holding off.