Neverwinter goes gothic with a new Ravenloft expansion
The man from Belmonte, he say yes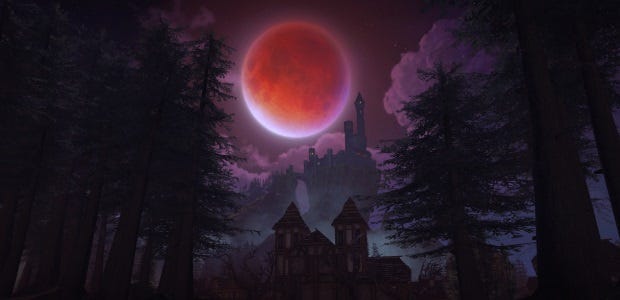 Cryptic's free-to-play Dungeons & Dragons-lite MMO Neverwinter is one of those fun-looking games that I've only found the time to sink a couple hours into. As such, I'm a little jealous of the folks playing through some of the game's newer high-level modules, including a jaunt through the Underdark and a recently added jungle filled with undead dinosaurs. This week's module - the fourteenth to be added to the game - has my attention, as this one's based on Ravenloft, the ridiculously bleak and gothic D&D setting.
Sadly, Neverwinter being more of a D&D-styled theme park with areas inspired by a multitude of settings, they've not committed fully to the Ravenloft experience. Rather than dive deep into an entire dimension of gothic grimdarkness, it's more of a Castlevania-esque situation. Players are called to save the humble little land of Barovia; a place of tall trees, taller monsters, terrified villagers and a bloody great mountaintop vampire castle looming over everything. (Un)Living up there is Count Strahd von Zarovich, and having him as a landlord really bites.
Not that making a few nods to Castlevania is a bad thing. The Ravenloft module's new land of Barovia brings a variety of monster-hunting quests to help players stretch their legs before the main event, as well as a new cast of NPCs to natter with. Of course, what everyone's shooting for is Castle Ravenloft itself, which looks to be one of the more exciting dungeons in the game, and it looks like the final battle against Strahd himself has a few interesting twists to deal with as you chip away at his health bar.
Neverwinter's Ravenloft expansion is out now, although you'll probably have to be fairly well caught up with the game in order to put much of a dent in the new enemies, even with the game's generous level scaling on your side - something they've tuned up even further in this update. You can see the full patch notes for Module 14 here.
Neverwinter itself is free to play and can be grabbed on both Steam or direct via Perfect World's launcher app, Arc.