New Footage: DC Universe Is Fast, Grey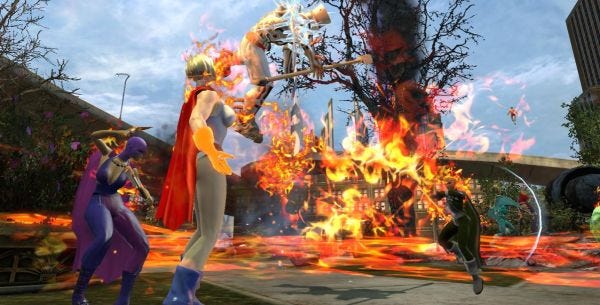 As newboy Quintin reported yesterday, with his plucky spirit and eager-to-impress enthusiasm (swearing), DC Universe has unheroically slipped into 2011 (the year in which robots take over the Earth). But that doesn't mean there can't be new trailers for it. Not that anyone was thinking it did. I mean, based on what logic would a couple of months of delay mean that it would stop being promoted? Who's even writing this post? An idiot, that's who. What? Carry on.
First up is a "beta combat" trailer, which shows the frantic shenanigans. It's certainly very explodey. My only concern here is quite how remarkably bland the setting looks.
Then to slightly compound my only concern, there's a "Metropolis flythrough", which shows us an extremely grey/brown city, with the occasional sign. But then you can run upside down on things, and suddenly I'm okay with it.