Next Stop: State Of Decay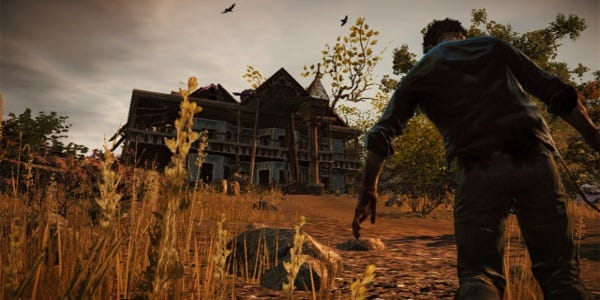 Instead of complaining about zombies, let's try to be positive about the little rotters. Which game, to your mind, has best used the most common and infectious of undead enemies? Would you opt for the character-driven dread and vulnerability of The Walking Dead? Zomboid's bleak suburban survivalism? Maybe you just like shooting hordes of former friends in the head, in which case you're spoiled for choice. State of Decay, formerly of County Console, looks like one of the best survival experiences yet and the PC version is almost here. On September 3rd, an official Facebook page announced that a 'controller-only version' will hit Steam Early Access in 'a couple of weeks'. Mouse and keyboard controls will come later, which seems odd, but I want to play now, so I won't complain too much.
Here's the full paragraph relevant to our interests:
Okay. Here was PAX in a nutshell. We brought a PC to show off how pretty SoD looks on a PC. It was a normal machine with two year old components, running the game on the medium settings. We will be launching the controller-only version on Steam as part of their Early Access thing in a couple weeks or so - please note that I can't control the exact date, and I don't have one to give you. Then comes Sandbox (still testing, so again, I don't have an exact date), and before the year is out, the full mouse and keyboard PC version on Steam.
Should be about a week away now then, that first version.
While considering zombie games, it's worth mentioning that Zafehouse Diaries launched on Steam over the weekend. I mostly agree with Rab, in that I find the concept more interesting than the product. It's a turn-based sort of a thing, in which survivors are managed, given new instructions on an hourly basis. At some point, the development team decided it'd be great if characters were occasionally racist or homophobic, causing friction in the group. Unfortunately, it's almost impossible to find anyone who doesn't consider their prejudices more important than the absolute end of the world that is happening just outside the barricades.
That said, last night I was deep into a game and two of my team battled their way into a warehouse that contained nothing more than a hundred frying pans and a few mops. It was a moment of pure farcical despair and I felt like I'd grown to love Zafehouse a little after experiencing such beauty.