Nier DLC will let you fight CEOs of Platinum and Squeenix
BECOME AS MODELS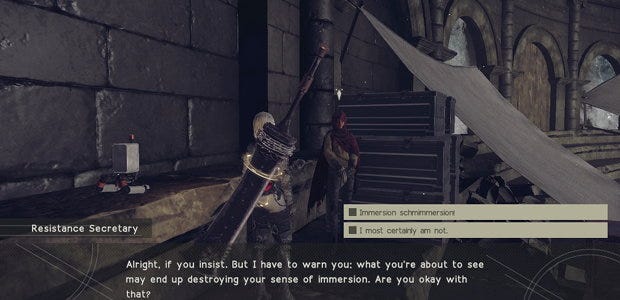 DLC adding coliseum battles might sound somewhat unimaginative for a game as endlessly surprising and heartbreaking as Nier: Automata [official site] but that's what is coming. Oh, wait, and it'll let those lovable warteens fight the CEOs of Square Enix and PlatinumGames. That's more like it! The action-RPG's first DLC, titled '3C3C1D119440927', is coming "soon" with coliseum scraps and rewards including cosmetic doodads like costumes from the first Nier. Here, check out this chief executive beatdown:
(If you haven't gone through several of Automata's endings, this post will show some things you may not know about.)
Square Enix's CEO has appeared as a boss battle before in a special demo of Final Fantasy XV (I hear that'll be released as DLC too?).
Arena combat isn't really what I'd want from Nier DLC but I don't know what else I'd prefer. Nothing? I don't even really want to return for a while; it's a game I adore and will surely revisit many times but not yet. I'll probably not buy 3C3C1D119440927 any time soon. But if you can still stomach duffing up robots (you monster!) and want some natty threads, be my guest.
Will you correctly guess -- and be disappointed or delighted by -- which of these three outfits is the sexy one? Check out 2B, 9S, and A2.
For the official word on all we can expect, here's Squeenix:
The downloadable content (DLC) set, titled '3C3C1D119440927', will include three exciting new colosseums to challenge, plus additional sub-quests. Upon completion of these quests, players can earn various rewards, including:

Costumes from the previous Japanese release, NieR: Replicant, for androids 2B, 9S and A2
Records that add special music tracks to the players' jukebox
New equipment and cosmetic accessories such as hairspray that allows you to change the color of 2B and A2's hair
Masks with unique 'on equip' effects
Special bullets that change the appearance of enemy bullets
And here, this trailer shows off 2B dressed as Kainé for some regular arena battling with an added dash of despair at the end: