Nihilistic New Metro: Last Light Gameplay Trailer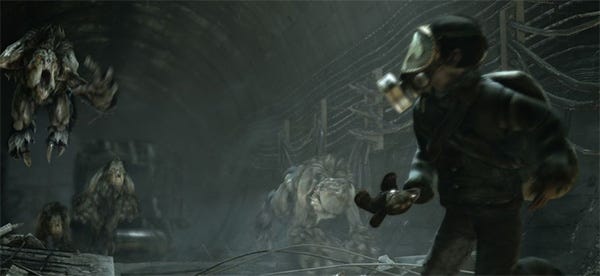 Gritty-looking Russian-accented choochoo-themed tunnel shooter Metro: Last Light was bought from THQ by Deep Silver, and will come out in North America on May 14th and everywhere else May 17th, which is weird because we live in an electronic age and I am an electronic girl and everything-should-come-out-at-once please. Anyway, here is a new trailer for it. It looks a bit chilly in that there Russia, and everything seems to have a rust problem.


From what Alec saw when the game had a more uncertain future, the game seems particularly weapon-interested, in that the guns have been fetishised more than Lara's arse. You can read of Alec's brainthoughts here.
I hear it will be playable at PAX East (none of the RPSers are attending unfortunately) so if you want to get some play time in head along to Boston where I hear you can get a COAFEE. And obviously Metro: Last Light.