Octodad and Bugsnax studio release four free games about hungry ants and horny snakes
Plus, the student edition of Octodad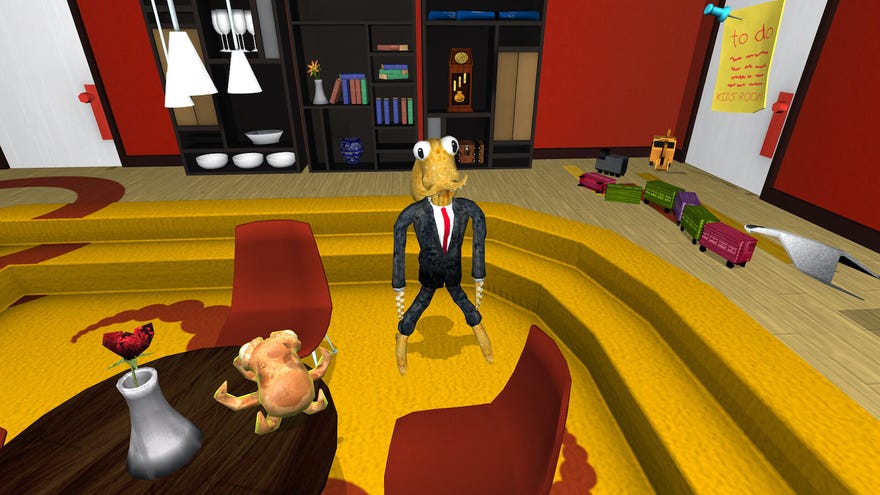 Developer Young Horses - best known for Octodad: Dadliest Catch and Bugsnax - have released four free games as part of their Free Range collection. They describe the freebies as "the wacky projects we make between games," which include an ant collectathon and an early prototype of Octodad.
Young Horses' breakout hit Octodad was first released in 2014, but the undercover tentacled caretaker was actually around well before that. The comedic unruly physics of Octodad was originally a student project submitted to 2010's Independent Games Festival, leading to Young Horses' inception. We now have a nice full circle moment, as Octodad (Student Edition) is part of the free collection with around 45 minutes of deceptive mayhem and a non-canonical ending.
Next up is the aforementioned ant collectathon, since its IndependANT name amuses me. Playing as an ant, it's your job to explore a human-sized room, find food, and feed your starving ant colony. Young Horses developed it to practice using Unreal Engine 5, and you can see some of that tech put to good use as IndependANT is quite pretty in a low-budget, patchwork kind of way. Honestly, last year's bug-sized Tinykin left a gaping hole in my chest - playing this 3D collectathon might help me fill it for around 30 minutes.
Want to see the wacky projects we make between games? Now you can w/ Young Horses Free Range, 4 FREE games now on Steam! 🐎

IndependANT https://t.co/9bL7Qe3ze3
Octodad (Student Edition) https://t.co/KQ1dURuEOI
Antbassador https://t.co/UGCadR2RWt
Snakedate https://t.co/BEiNPx6cZr pic.twitter.com/KW61NHMpio

— Bugsnax (YH Games) (@YoungHorses) April 25, 2023
Speaking of ants, the next freebie Antbassador puts you in the gloves of - let me double check - a finger wearing a top hat. For five minutes of "finger fun," you prod along a utopic ant farm, trying not to cause destruction on the way. It was made as part of a Ludum Dare game jam where it won first place thanks to some good jokes.
Finally, we have Snakedate, a game where you play as a snake who uses a dating app and slithers across a bar looking for love. You'll be swiping left and right on horse-people you like the look of, then you can wrap around them with no public shame whatsoever. Also, damn, all of these games have amazing names.
You can grab all four of these on Steam.
All of this is a big yes in my books, and I think more studios should release their wild, weird, and fun in-between projects that would never usually see the light of day. If you're a fan of this trend, the team behind Totally Accurate Battle Simulator recently released a staggering 23-game archive full of these sorts of mini-games.