Oh My God The First Serious Sam 3 Screen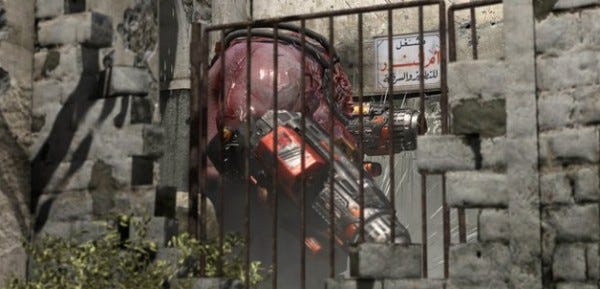 A headline perhaps better located at the top of Friday's Thief 4 post, but whatever. Croteam have posted the first screenshot of Serious Sam 3 on their Facebook page, with more to come on Monday. My comprehensive and deranged analysis follows. WHAT could it MEAN?

Pour a drink, fellows, and join me in my digital reverie.
RIGHT! That's a monster behind those bars if I've ever seen one. Not that I've ever seen an actual monster. Unless you count my Uncle Charles. Anyway, look at those guns! Those look like suitably over-the-top guns for Serious Sam. I bet they're called something awesome, like BONEMELTERS. What do you think they're called, readers?
Look at that thing's face! He's having a great time! G'wan, son!
Man. It's like Steve Buscemi slept with a beef tomato.
That's Arabic script in the background. Can we deduce a real world setting, like the first Serious Sam? That was the best one. This is probably a good thing. Unless they're making Serious Sam: Modern Warfare. Actually, that might be amazing.
Those walls are covered in bullet holes. Is this a human/alien warzone? Is Serious Sam fighting on the frontlines of a human/alien war? Wouldn't that basically make him Duke Nukem?
I am now wondering what we can expect to see in and around that alien's crotch when it turns around.
Oh god, i've just given brain-birth to the worst mental image
cannot unsee what has been unseen
What can you deduce, readers?