Old Before Its Time? SWTOR Subs Sliiiiiide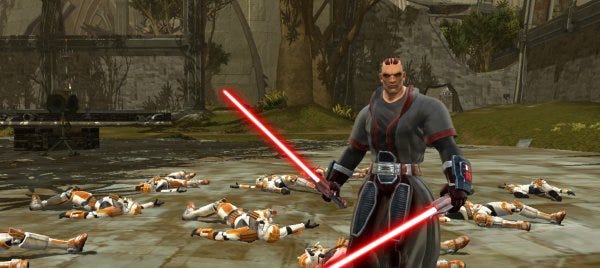 Yesterday was EA's annual fiscal earnings call, which meant another night of the publisher baying about sums of money beyond all human imagining to stern shareholders and jumpy journalists. The headline numbers were revenues of $4.1 billion and earnings of $76 million, and a claim that it will be throwing $80 million down the gluttonous money-pit "in development of games for Gen4 console systems." So consoles didn't start until PS1, huh? My sister's still-used Sega Mastersystem says otherwise, bucko.
But enough about the willy-waving. Let's talk willy-shrinking too. Back in March, EA claimed its frighteningly expensive MMO goliath Star Wars: The Old Republic boasted some 1.7 million active subscribers. It's now the merry month of May, and the earnings call brought news that subscribers are down to 1.3 million. So that's 400,000 chappies gone in just two months, eh?

To make matters worse, EA has of late been resolute that SWTOR subs weren't on the slide, claiming as recently as last month that overall numbers weren't down but apparently light server populations were merely the result of less 'concurrent users.' I'd say EA have egg on their faces, but I'd imagine they have an army of robotic lackeys under strict instructions to go and wipe it off before anyone notices.
And then there's our own chat with SWTOR's lead designer Daniel Erickson just last week, in which he claimed that "Although the internet loves to pronounce the doom of all things, what we're seeing is a huge increase in activity with [update] 1.2 as people return to see all of the new content." -400,000 is a bloody funny way for activity to increase, I must say.
In the earnings call, EA Labels President Frank Gibeau attempted to Force-deflect concerns that the MMO was going the way of the Star Wars Holiday Special, arguing that numbers reflected EA's "original assumptions" about the game's likely performance. His reasoning for the drop was that "Some of those casual customers have gone through a billing cycle and have decided not to subscribe to the game." Well, that was certainly me, though I'd say less 'casual' and more 'just not gripped by the game'.
EA reckons it can yet increase subscribers with planned updates to PvP, guilds and endgame content, plus expansion packs. The first two of those will be called "Legacy" and "Allies" and will make the Kessel run in less than 12 parsecs (i.e. they'll be out later this year).
If you're of a mind to, you can comb through EA's money-blast in full here.