Only Way To Be Sure: Lost Aliens RPG Art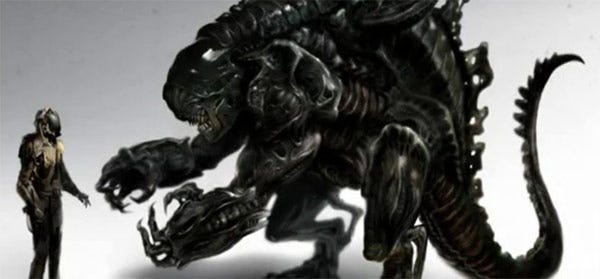 Via io9, a bittersweet cocktail of previously-seen and freshly-revealed concept art casting light on what direction Obsidian's sadly cancelled Aliens RPG was going in. That direction being "massive, 'orrible new variants of Old Man Xenomorph." Take a look at what Aliens: Crucible might have been below.

I'm sure there'll be some outrage at how much it was going to mess with the beast, but gosh-darn, I'd love to have played that. Thinking about how an RPG within in a survival and militaristic situation, where stats are surely little-to-no defence against murderous, biology-bending predators makes my brain itch to know more.
In fact, while I can't work out whether we posted this prototype footage of in-game action when it first did the rounds a year ago, it's worth looking at for context now. I wonder if any of its ideas found their way into the divisive Alpha Protocol?
There's more scraps of what-if information and visuals over on AvPGalaxy.
Meantime, what's going on with Gearbox's Aliens: Colonial Marines? Hopefully that's going to raise its head once Duke Nukem's had his big, noisy comeback in May. They mostly announce their games after they've shipped their previous ones. Mostly.