Open world murder mystery Shadows Of Doubt enters early access this April
Still looks unreal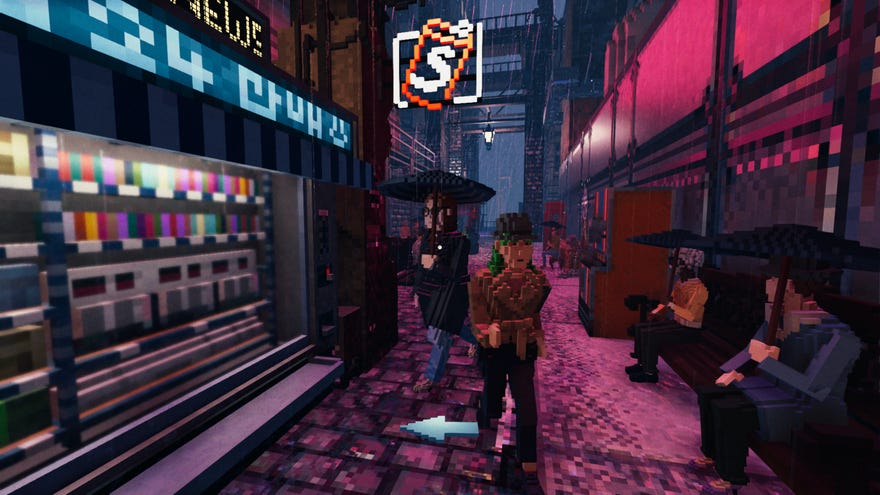 We've known about Shadows Of Doubt for a few years now, mainly peeking at it through Screenshot Saturday posts, which makes sense considering the game's beautiful, neon-soaked voxel art. Happily, the open world detective sim is now sneaking into an early access release next month, on April 24th.
Shadows Of Doubt sounds wildly ambitious. Everything in the game is procedurally generated, and I mean everything: the perpetually rainy hyper-industrial city, the citizens with their own daily routines, even the serial killer case you'll be investigating. You're then cut loose in an immersive sim-type sandbox where you'll need to read email logs, use your detective gadgets, and squeeze through vents to catch your culprit - a combination our Ollie enjoyed a lot during this year's Steam Next Fest demo.
Why does a single-player immersive sim need an early access release, though? A recent Steam blog explains solo dev ColePowered Games' release strategy:
"Shadows of Doubt has been in development for many years, and so we didn't take the decision to launch into Early Access lightly. Being open and transparent, we've had a lot of serious discussions about how and when to launch the game. The game is in a very advanced state of development - while there are plans for new content and further optimisations, the game is functionally complete with a full suite of features, cases, content and a complete Sandbox Mode, beyond what you may usually expect from an Early Access title. Both myself and the publisher are confident in the overall quality, breadth of content and playability of Shadows of Doubt's Early Access release.
"However, there are some key things that launching in Early Access allows for, not least of which being more content. It was always a goal of mine to develop post-release content for the game, but launching into Early Access means I can bring that new content directly into the pre-1.0 roadmap, meaning there'll now be even more for players to discover in the initial base game when the full version launches (and Early Access players will of course get this content for free as it's added to the game)."
An early access release also means that the team can react to problems and bugs without the pressure of a "final" release. The early access version "doesn't currently feature a story thread of missions beyond those featured in the demo," since "leaning more heavily into a sandbox experience driven by the AI itself is where the game shines." Although, the door is still left open for more scripted bespoke missions in the future.
On April 24th, the early access release will generate bigger cities than the demo allowed for and there'll also be progression systems included, letting you earn cash from other cases, find new gadgets, customise your apartment (hell yeah), and unlock upgrades. It's just oozing with style and I have a sneaking suspiscion it'll be a hit. You can find out more about Shadows Of Doubt over on Steam.