Orcs Must Go F2P - Orcs Must Die! Unchained
Valar morchulis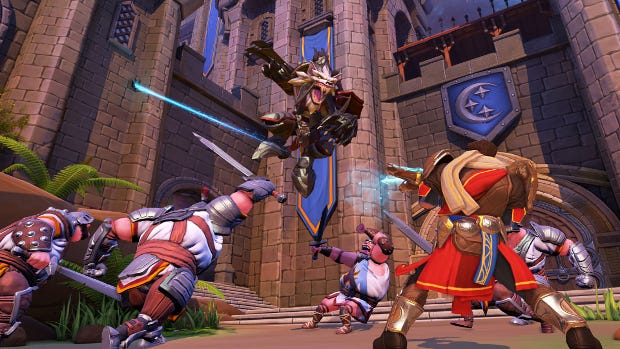 I feel like life has dealt orcs a pretty unfair hand. I'm not just referring to the insidious, discriminatory presumption that they must be villains of the lowest caliber, either. It's all "musts" with the poor green giants. Orcs must fight, orcs must die, orcs must be back from the school dance by 11 or so help me they are grounded from here to kingdom come.
And now, thanks to Orcs Must Die! Unchained, orcs must also go free-to-play. Robot Entertainment's latest entry in the popular trap-laying, fortress-defending actioner adds MOBA elements to the series' (perhaps too) tried-and-true formula and dresses it up in shiny new F2P pantaloons. It's certainly uncharted territory for the series, but is it any good? You can find out right now, surprisingly enough.
It's actually a pretty solid foundation, if you ask me. Orcs Must Die, but with competitive, hero-based multiplayer defending and attacking. An action-based MOBA littered with OMD's trademark punchy, prickly traps and some new offensive toys to boot. Here is how all of that will work:
Attack and Defend - White-knuckle Fortress Assault action puts you into the thick of competitive siege warfare. Unleash your minions and charge into the heart of the enemy stronghold and build an impenetrable gauntlet of traps to hack, grind, flatten, gibletize and incinerate your foes. Your team must master both tactics to triumph.
Choose Your Hero - Dozens of unique and powerful heroes offer deep gameplay options at all skill levels. Old friends the War Mage and Sorceress return to face new enemy heroes like Blackpaw, Midnight, Stinkeye, and Bloodspike. Whether players prefer might and majesty or scum and villainy, there's a hero for everyone.
Collect & Customize - Collect and upgrade powerful heroes, over-the-top weapons, devious traps and fiendish minions. Build an arsenal from an enormous variety of options, and customize a strategy for every match. New heroes, weapons, traps, and minions are continuously added, and your collection will never stop evolving.
For now exact details of OMDU's F2P model have yet to surface, so that's still a big question mark. Robot has cited League of Legends as an inspiration, so probably expect a rotating selection of free-to-try heroes and traps. It sounds like most everything will be earnable in-game, though.
You can leap in and try the MOBA-fide monster mash right now if you're willing to spend, um, a whole lot of money. OMDU is already running a Founder's program, but right now only the highest tier gets you instant alpha access. That'll run you $149.99. And while it apparently contains $500 worth of goodies, that's still a massive amount to drop on any game, let alone one so early and unproven. The first ($19.99) and second ($59.99) tiers, meanwhile, get you "priority" beta and alpha access, respectively.
Orcs must die, go free-to-play, and be home before curfew (not necessarily in that order), but you have a choice. What's it gonna be: dive in headfirst, traps be damned, or watch and wait?